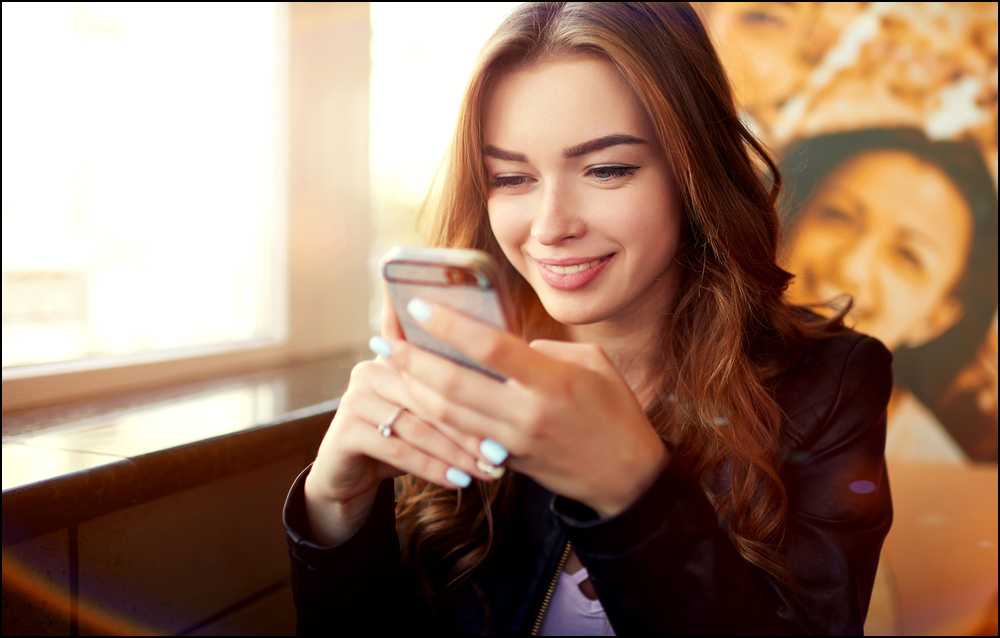 What Are Good Conversation Starters On Dating Sites?
OkCupid has found 3 good conversation starters you should use in messages to women on dating sites. These phrases will certainly help boost your responses.
The worst initial message you can send a woman on a dating site would be one or two words such as "Hi", "Hey", or "Hello there" just like these guys:


These are NOT good conversation starters with women.  You may as well write, "I have nothing to say, am boring, and lack confidence. Please don't reply to my message."
A woman will delete your email immediately if you send her with a one or two-word opening message. And believe me, the majority of men send lame openings like this:

You can see even more bad opening messages in my blog post,The Top 5 Worst Online Dating Messages To Women, that you should avoid sending to women.
But what are good conversation starters that actually get responses?
3 Phrases That Get The MOST Responses From Women
OkCupid has come to the rescue. OkCupid analyzed over 500,000 emails and found the phrases that had the highest success rate for replies to your messages.
What did they find? Mentioning common interests is the way to go.
OkCupid points out that "talking about specific things that interest you or that you might have in common with someone is a time-honored way to make a connection….." and they have proof that it works.
OkCupid found several phrases that get high response rates. The top 3 that can be used as good conversation starters are:
1. "You Mention"
2. "Good Taste"
3. "Noticed That"
They are all easy to use but to help you out, I'm going to give you some examples.
Good Conversation Starters Example 1
Here is part of a woman's dating profile I found on POF in San Diego. She had a rather lengthy "About Me" section so I'm only including part of what she wrote:
"I've lived all over! I'm originally from Colorado (yep I'm a Broncos fan), I grew up in Australia and went to college in Paris. I've tried out both coasts and as much fun as NYC is I just was not a fan of the weather. The weather here is much better!!!"
The woman was 38 years old and very attractive so you can be sure she gets a ton of emails from men.  The football comment is an easy in; just refer to it jokingly.
Don't talk crap about someone's team. Mockingly make fun of yours or a different bad team. Trust me, it works.
Using the 3 phrases from OkCupid:
1. You Mention:
"You mention you're a Broncos fan. I'm a Raiders fan myself so I'm not sure if it will work out between us because I hear Broncos fans are really rowdy and fight a lot unlike our fans who are peaceful and hold hands between plays".
2. Good Taste:
"I started reading your profile and thought "Wow, finally a woman with good taste", then I saw you liked the Broncos. Why on Earth would you like a team that has been so consistently good when you can like a team like the Buccaneers who continually dominate at mediocrity?"
3. Noticed That:
"I noticed that you're a fan of the Broncos. Did you lose a bet because clearly you should be supporting a winning organization like the Jaguars?"

It doesn't matter which team it is. If she likes a winning team; pick the polar opposite and use it as an opening.
Good Conversation Starters Example 2
The woman also mentioned in her profile that she lived in NYC and preferred the West Coast over the East Coast.  You could use this approach:
1. You Mention:
"You mention how much better the weather is here on the West Coast. You mean to tell me you don't like humidity, snowstorms and shoveling ice off your car window in freezing temperatures? Be honest, you don't miss it?"
2. Good Taste and Noticed That
"I noticed that you chose the West Coast over the East Coast; obviously you have good taste but I want to know do you prefer West Coast pizza over East Coast pizza. And have you found a good East Coast pizza joint here that you could recommend because I haven't found a good one."

That's right, I knocked out two phrases in one email.
Good Conversation Starters Example 3
Here's another profile I found on POF with words you have no doubt seen before:  "I enjoy experimenting with new recipes, a nice glass of wine while listening to music or reading, going to concerts…."
Here is how you could craft an opening message:
1. You Mention and Good Taste
"You mention you enjoy a nice glass of wine. I love a good Cabernet. Are you a fan or red wine or white wine? What's your favorite wine? Clearly a woman of good tasted, I don't expect you to say Franzia. It will never work out between us if you do. 🙂"
2. Noticed That
"I noticed that you enjoy experimenting in the kitchen with new recipes. Where do you find these recipes? I am always on the lookout for healthy recipes and am on the Food Network site and Nom Nom Paleo constantly. What's your signature dish? My go to dish is Basil Chicken and it's rated highly on Yelp! ha!"
Good Conversation Starters In Action
I put these 3 phrases in action and found them to be very effective. Take a look: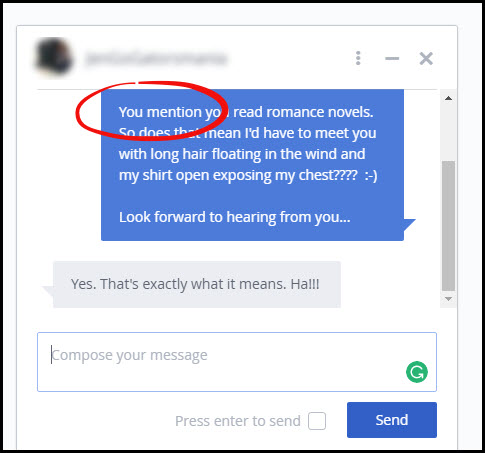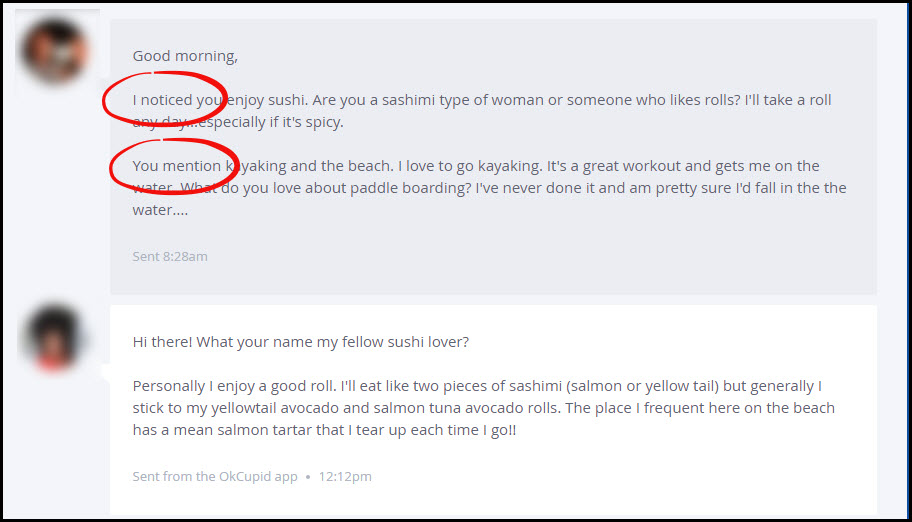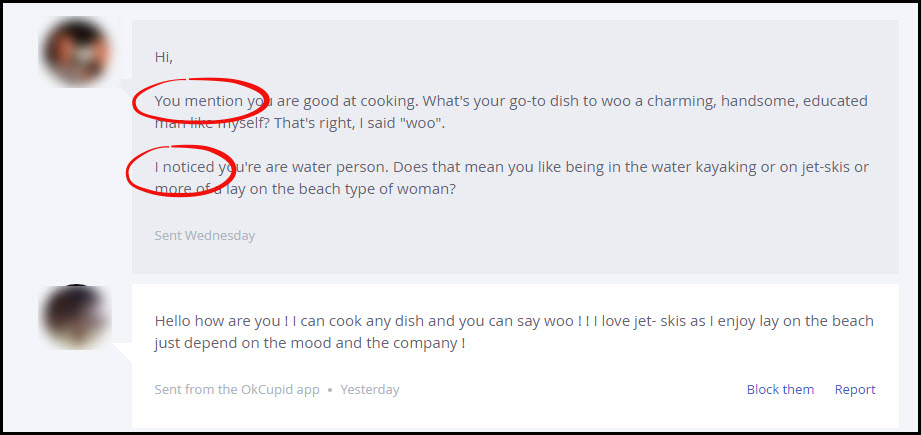 Final Thoughts
"You Mention", "Good Taste", and "Noticed That" are all good conversation starters that you can use in your messages to women.  These phrases are good conversation starters because they show the woman you have actually read her profile. In fact, the words themselves point out that you read her profile.
Keep these in the back of your mind as you craft your messages to women:
Don't be too serious in your messages.
Come across as charming and humorous.
Be modest but show confidence.
Don't be afraid to poke fun at yourself a bit, but at the same time don't be a total clown.
For goodness sakes don't be agreeable. Give her a little nudge but don't be insulting.
The last thing you want to do is compliment a woman on her looks.  NEVER compliment a woman on her appearance.  I talked about why in another blog post, "Why Men Must Avoid Physical Compliments With Women On Dating Sites."
Please leave a comment below because I'd like to hear what you think about these good conversation starters to women. If you have any others, feel free to share.
Image courtesy of nenetus at FreeDigitalPhotos.net