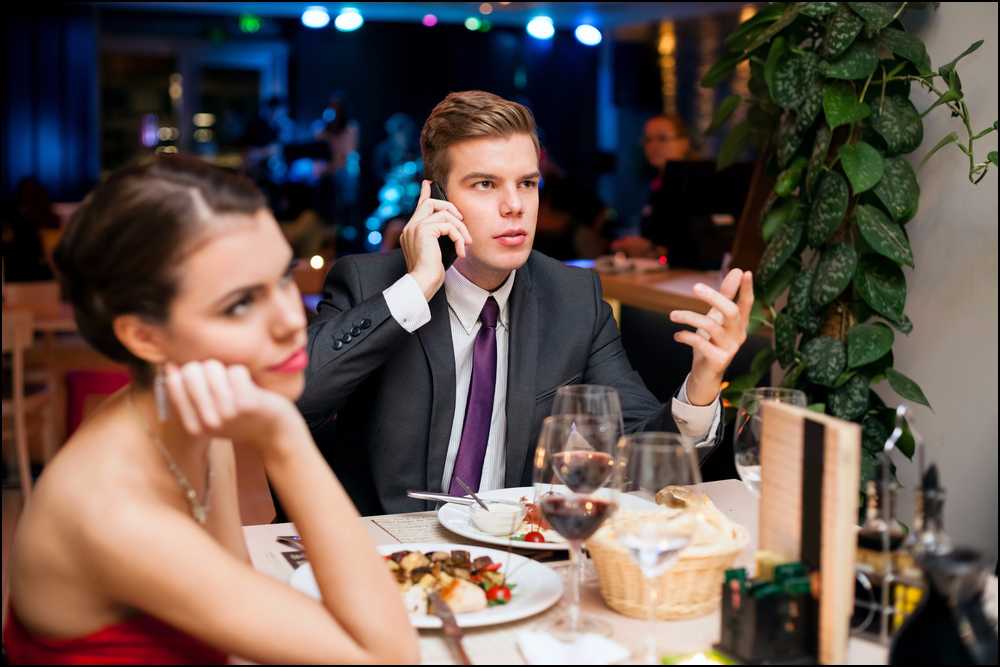 Good Cell Phone Etiquette On A Date For Men
The best cell phone etiquette on a date is to keep your phone in your pocket.
Answering your phone, texting people, checking in on Facebook, taking photos of your food/drinks for Instagram, checking emails, tweeting, and taking selfies are no-no's on a date; especially if it's the first date.
Cell phones have changed the dynamic of dating because everyone has one. According to PEW Research Center, 95% of Americans own a cell phone.
It doesn't matter where you are, you'll see people glued to their phones. Be it a movie, the coffee shop, a store, a hike, at the airport, even while driving, you'll see people checking their phones.
But how has it impacted dating and what's good cell phone etiquette on a date?
Cell Phone Dating Facts
A poll by Zoosk surveyed over 3,000 online daters and revealed how people feel about cell phones and dating:
49% of singles were turned off by an "annoying or obnoxious ringtone."
68% of daters would prefer you not check in Facebook or Yelp.
33% of the daters surveyed said they have left a date because of cell phone usage, saying that the other person was "too absorbed" with their smartphone.
But what is the worst cell phone etiquette on a date?
Constantly glancing at your phone during a conversation (86%).
Sending a text message (73%).
Taking a call (51%).
Various studies have taken it further analyzing the behavior of cell phones and the behavior of people.
A study from University of Essex found the mere presence of a cell phone can erode "in-person intimacy." The study paired strangers and had them engage in a variety of conversations; some had a cell phone nearby while others didn't.
The pairs who had conversations with a cell phone nearby reported feeling a lower quality to their conversation and less closeness than those who had carried on conversations without the phone.
The pairs also reported feeling less trust and thought that their partners showed less empathy if there was a cell phone present.
Psychology Today did their own study and found even if the other person doesn't actually answer his/her phone on a date, the mere presence of the phone on the table makes it seem as if the person who put it there isn't fully in the moment.
Imagine being on a date where the woman keeps her phone on the table.  Would you feel comfortable opening up when you're constantly fearful of her phone grabbing her attention away from you?  Of course not.  A phone can have a negative impact on your date if it's just sitting there on the table.
The Best Cell Phone Etiquette On A Date
Here are a few tips for you while you're on a date with a woman:
Turn your phone off and keep it in your pocket.
If you must have your phone on, for a babysitter for your kids, for example, create a unique ring-tone for him/her so you're on alert for that particular ring tone.
If you have an important phone call excuse yourself from the date and step outside.
Final Thoughts
Treat women the way you want to be treated. It's disrespectful to use your cell phone on a first date unless it's an emergency.
My advice is simple, keep your phone in your pocket and don't check it.
It may be tempting to check it if your date excuses herself from the bathroom but unless you're on call for work or are worried about your kids, keep it off.
If you must, excuse yourself to the restroom and check it then. Show a little class. Focus on your date and you may just land a second date.
What do you think is good cell phone etiquette on a date with women? Leave your thoughts below.