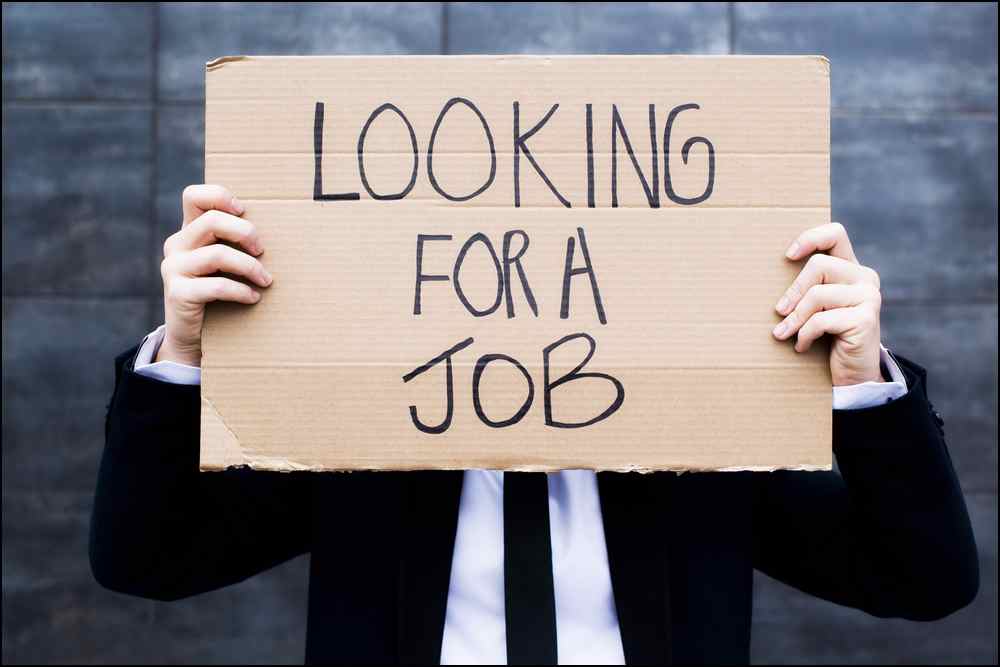 Don't Have A Job? Prepare To Be Ignored Online!
How important is being employed to women on a dating site? Let's just say when you don't have a job your chances of getting a date with a woman plummets.
A recent study by a leading online matchmaking site has done research and found the majority of women wouldn't date a guy who doesn't have a job. No shocker there.
The important thing to realize is that based on this study, and others about online dating which I discuss below is that it's critical you show you have a job on your dating profile.
Keep reading and I'll show you how to show a woman you're gainfully employed.
How Desirable Are Men Who Don't Have A Job?
The dating site, It's Just Lunch, conducted a survey of nearly 1,000 women and found 75% of women wouldn't date a man who is unemployed.
Here are a few other findings from the site's survey:
75% of women wouldn't date a man who is unemployed.
However, 42% of the 75% said they "might" go on a date with a guy who doesn't have a job, but probably wouldn't want to date him long-term.
21% of the participants said they would definitely date an unemployed man.
33% of the women said no outright.
"Not having a job will definitely make it harder for men to date someone they don't already know," said Irene LaCota, spokesperson for It's Just Lunch in a press release. "This is the rare area, compared to other topics we've done surveys on, where women's old-fashioned beliefs about sex roles seem to apply."
In talking to the Huffington Post, women who were interviewed for the study said they were concerned that they might have to "support an unemployed man" and that they "didn't want their own activities to be limited by someone else's job status and potential financial limitations."
What Jobs Do Women Prefer In Single Men?
As far back as 2005, studies about online dating have found jobs are important to women. One study, What Makes You Click: An Empirical Analysis of Online Dating, found men with the following professions had the highest success rates on dating sites:
Lawyers
Military
Firefighter
Health Related Professions (Doctors)
Tinder recently had their own list of the top professions for men that got the most swipes from women.  It's interesting to note that the professions in the study from 2005 made the list over 10 years later on Tinder.   You can see the full list here: Top 10 Male Professions Swiped Right on Tinder by Women
Don't worry if your job isn't on these lists. What's important is that you have a job.
When looking for relationships, women want to know that you are employed. And when considering long-term, they want to know you can provide as well.
How To Show You Are Employed On Your Dating Profile
Clearly, having a job is important to single women. It's critical to show you have a job on your dating profile.
Women read your dating profile end to end. And if a woman's looking for a relationship, it's in your best interest to show you are employed.
Some dating sites like Match.com allow you to choose a profession from a list of options. Don't leave this blank if you are employed.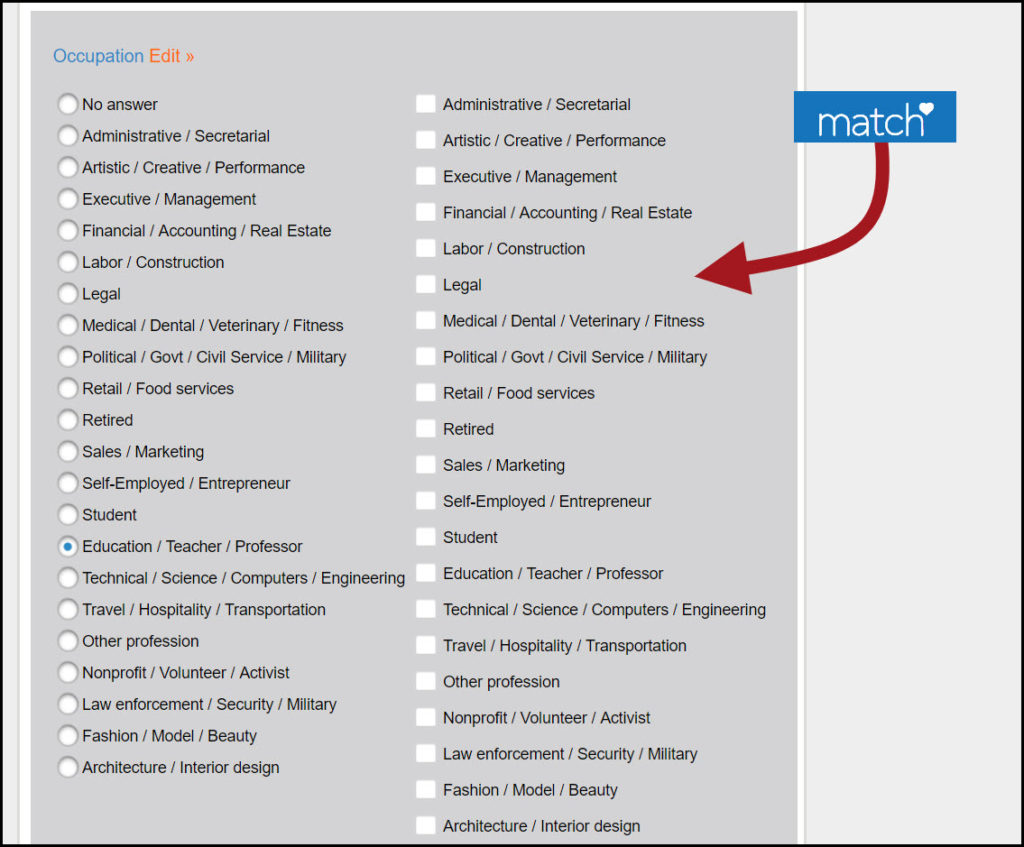 Other sites like OkCupid don't have an option to show you're employed.  In this case, write about your career in your "self-summary" section.  In fact, whatever dating site you're one, be sure to include a few sentences about your job like the example below.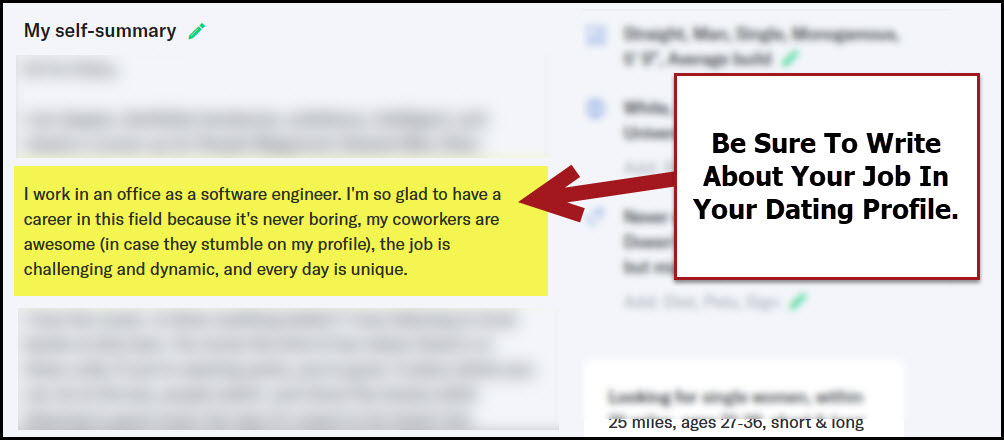 Please leave your thoughts about employment and how it impacts a guy's results below.