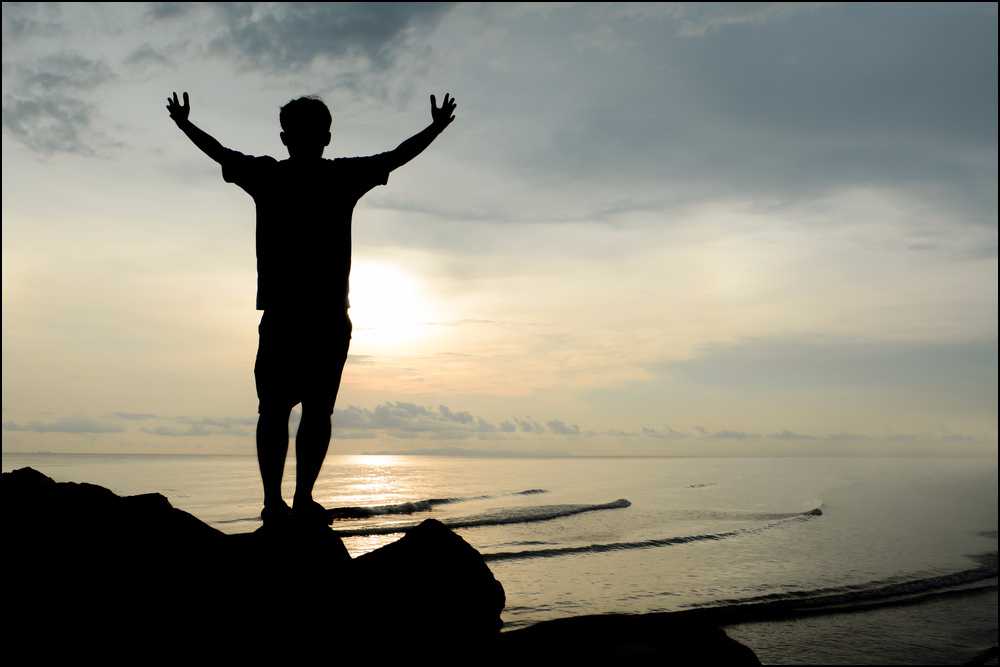 The Do's And Don'ts Of Dating Profile Photos For Men
First impressions are everything. Follow my list of important do's and don'ts of dating profile photos for men and make your first impression count online.
Choose the right photos and women are more likely to contact you. On the other hand, using the wrong photos will have women running for the hills.
Below are the do's and don'ts of dating profile photos to help you use the best one to attract as many women as possible while at the same time, helping you avoid choices that are catastrophic for your results.
Do show your adventurous side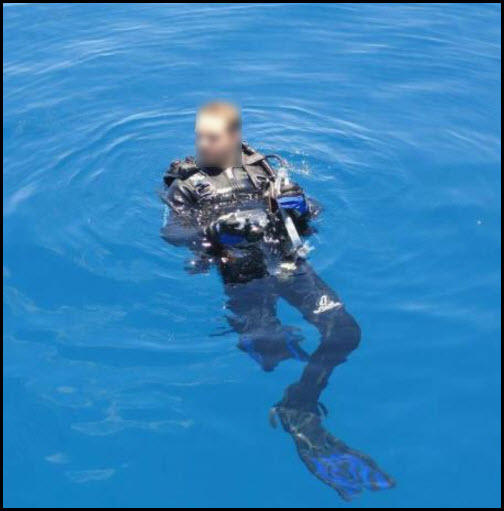 Topping the list of do's and don'ts of dating profile photos are adventurous lifestyle photos.  Share your adventurous side by showing a photo of two where you're engaging in some of your escapades.
Examples include skydiving, bungee jumping, rock climbing, obstacle course races, skiing, surfing, etc…  It can be things you've done while traveling abroad, riding an elephant in Thailand for example.  Or something you've done on a recent local trip; white water rafting.
The idea is to show you have an adventurous side.  OkCupid found people who show themselves doing something interesting have a 40% higher chance of receiving more messages.
Why?  Because you're doing cool stuff and what woman doesn't want to participate in cool things too?
Don't use professional head-shots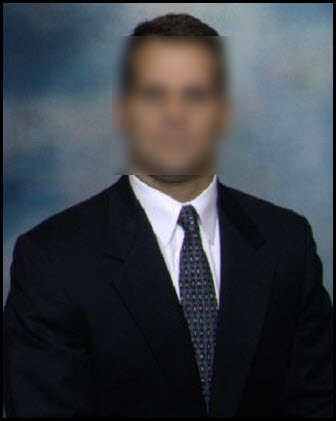 The guy above looks like he's trying to sell real estate instead of looking for a relationship. Keep these photos for your LinkedIn profile, not your dating profile.
Do include a picture or two of your outdoors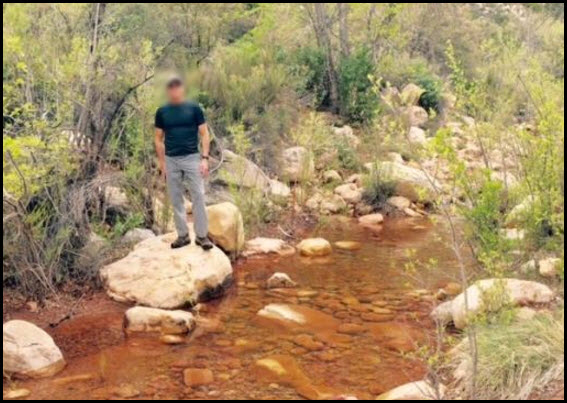 Next time you're out hiking or at a park, have a friend take a photo. You can be in front of a lake, some trees, rocks, the ocean, a mountain top, etc..
As long as it's outdoors you're good to go.   According to Zoosk, outdoor photos increased messages received by 19%.
Why?  Probably because it shows you do more than sitting around watching Netflix.  It also allows women to picture themselves alongside you outdoors.
Be sure you're the only person in the photo too.   Having others in this photo is a distraction.
Don't have women in any of your photos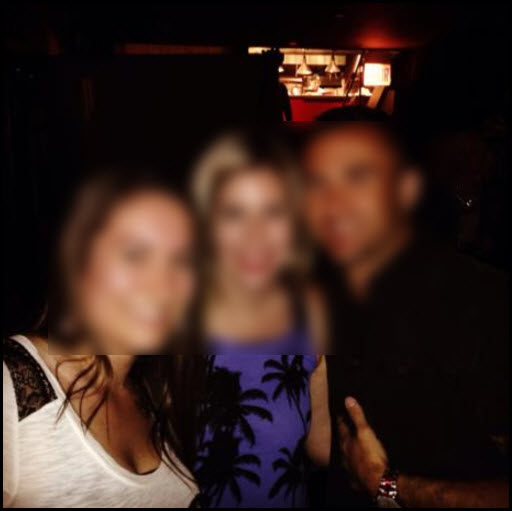 There's no need to have any women in your profile photos.  It's a distraction which takes the focus away from you.
I don't care if it's your best friend or sister; no women on your profile photos.  You don't want women to have second thoughts about you and a photo with women comes across as desperate or clueless.
This includes cropping women out of your photos like the one below.  Cropping is even worse because it looks like you're hiding something.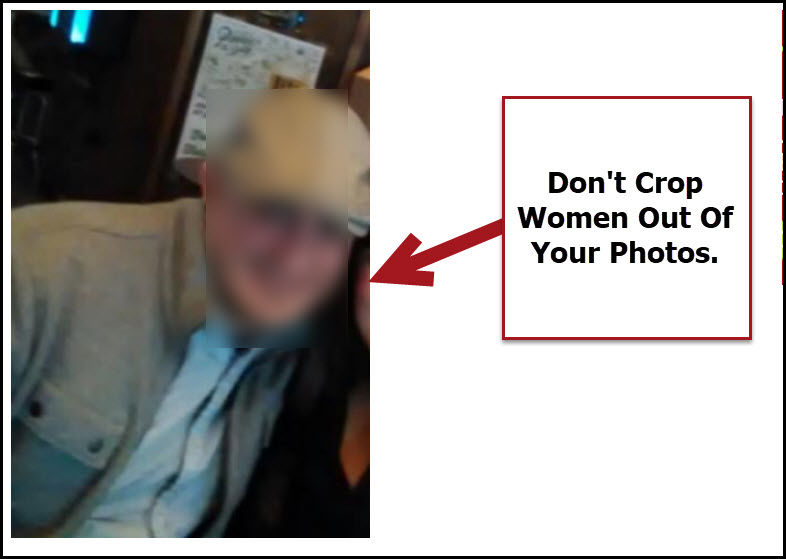 Do be aware of your surroundings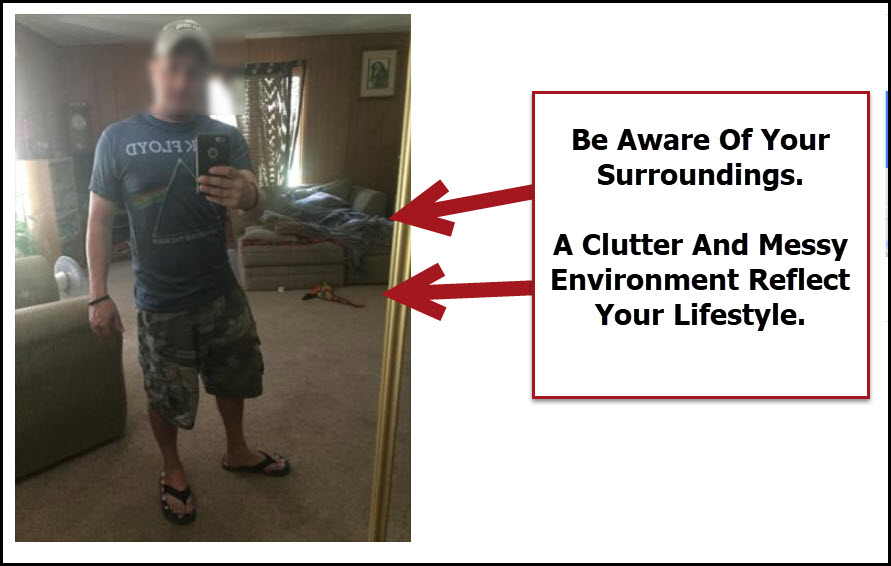 Women not only judge your appearance but the environment around you in your photos.  The example above shows clutter and a messy area.
I guarantee you this photo wrecks this guys chances online.  Clutter and a messy area may signal a disorganized life. No woman wants that.
Take note of where you are in your photos and what's around you.  If you're in your home, make sure the area is clean.  If you are at work, tidy up a bit.
Don't use quotes/song lyrics/poems as one of your photos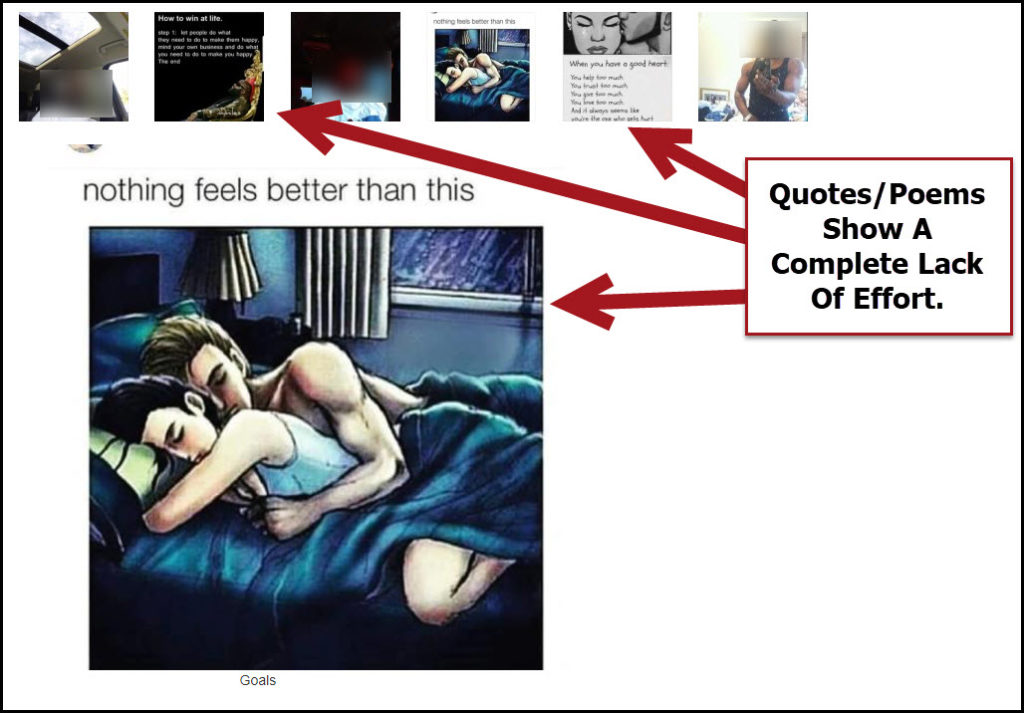 Do I really have to explain why these type of photos are a bad idea? Save your quotes for your Facebook wall or Instagram account, not your dating profile.
Here's a simple rule you should always follow when it comes to your photos: If you aren't in the photo, don't use it.
Your actual photos should speak for you; not someone else's words.  Keep any type of meme or quote off of your dating profile photos.
Do showcase your talents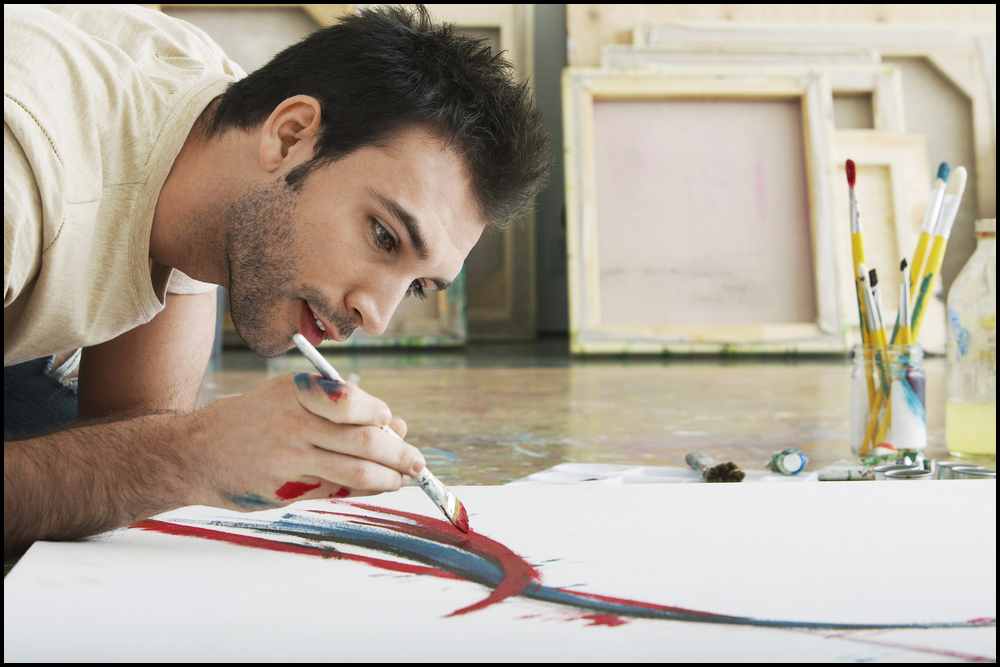 Do you cook? Play an instrument? Enjoy painting? Carpentry? Maybe you like gardening.
We all have talents and your profile should showcase at least one.  It can be something as simple as you singing karaoke.
Photos like these will give you an edge over other men because you'll be showcasing a piece of your lifestyle while all the other guys use selfies.
Don't use the wrong group photo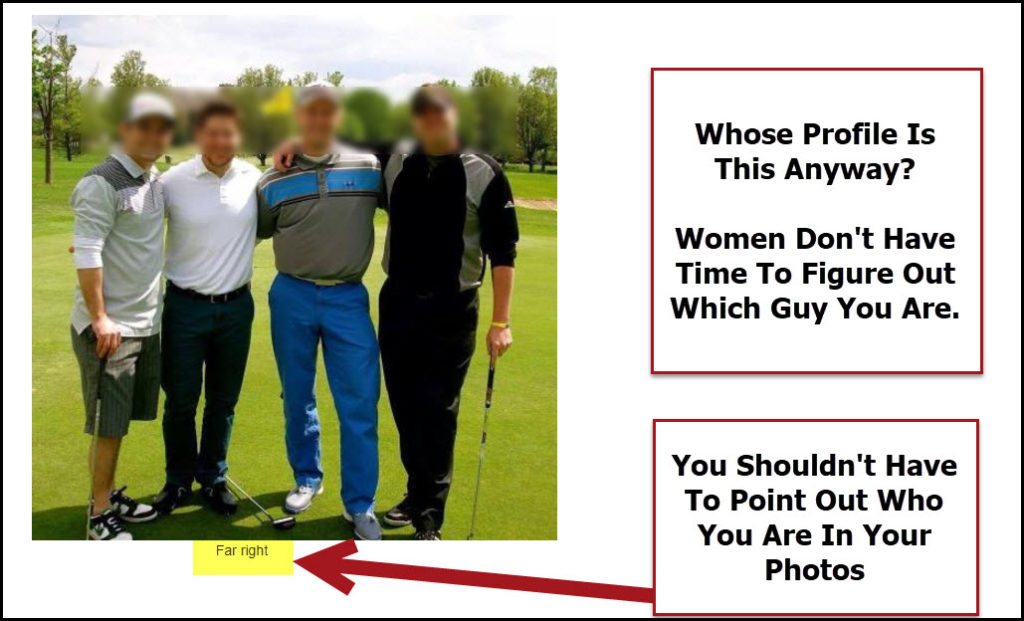 Having a group photo is a must; it shows you're sociable and have friends. Group photos act as social proof you aren't some weird loner.
However…..too many guys choose to use the wrong type of group photo; like the one above.
Women don't have time to figure out who you are so unless you're in the center of your group photo; don't use it.
It's best to place yourself in the center because that's where people naturally focus on when looking at group photos.
Also, make sure your photo shows you doing something fun. It should be natural and "in" the moment.  Nothing staged or posed. Don't use a wedding photo if you are a groomsman for example.
I would also recommend no more than 3 guys total; meaning 2 of your friends.  More than 2 friends in a photo are distracting.
Do show you clean up well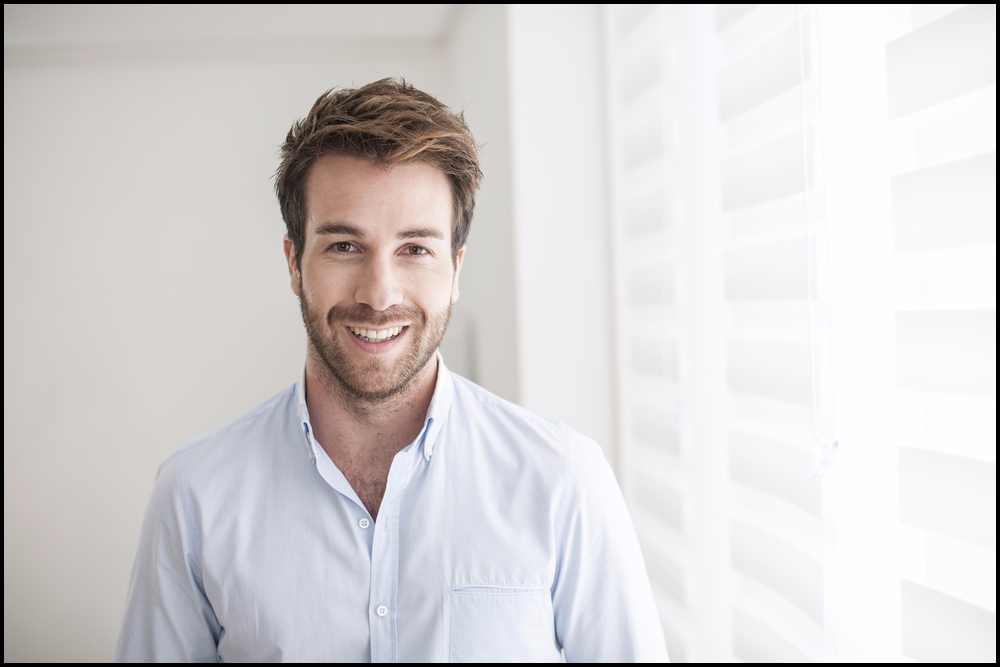 Include a photo where you're dressed up yet casual (no suit photos).  You want to be properly groomed, wear a nice set of shoes, and present yourself well.
Don't overdress in this photo though.  Outfits that are more sophisticated than a simple collared shirt fared poorly in one study by OkCupid.
Women want to see how nicely you clean up. Using a photo where you're looking dapper allows them to picture themselves alongside you to an event, a family gathering, or a simple night out on the town.
Don't use photos taken in the bathroom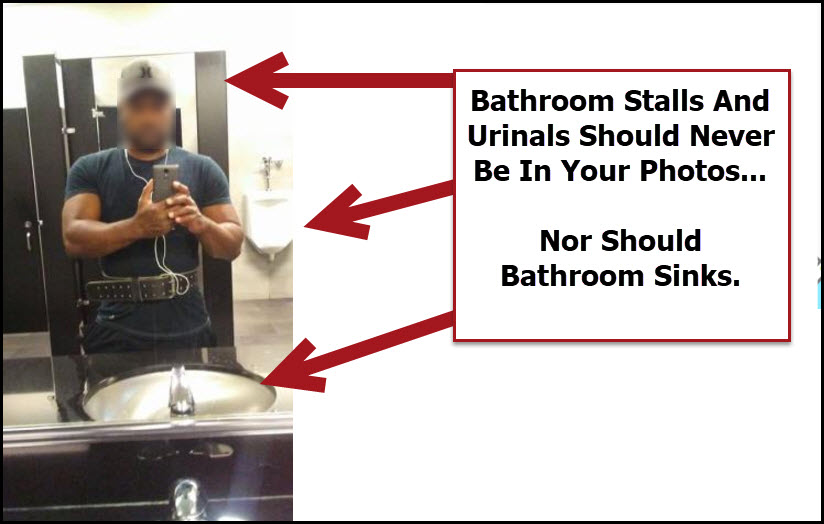 Do I really have to explain why this is a bad idea? Seriously, do you think women are turned on or captivated by seeing a toilet or urinal in the background?
Excluding this type of photo should be common sense but I'm here to tell you bathroom selfies are the most common photo mistake men make on dating sites.
If you use this photo, you deserve to be ignored. Seriously, nothing says "tacky" quite like having a toilet, urinal, dirty towel hanging behind you, or lockers in the back of your mirror selfie.
Don't use them. Seriously.
Do use a photo that is unique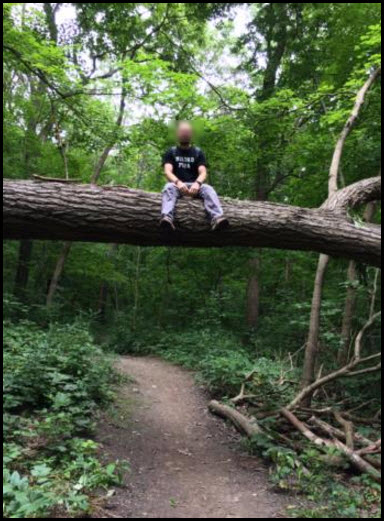 I love this photo. It's definitely unique and eye-catching.  It's just a guy sitting on some log but it will definitely grab a woman's attention.
Surely you've done something like this and if not, what better reason to head out somewhere and find an opportunity to take this type of photo.
A unique photo could be one of you atop a mountain with the sun going down, a long distance shot of you zip lining, a photo of you hang-gliding, a picture of you in a wine vineyard for example.  Here's another example of a good photo: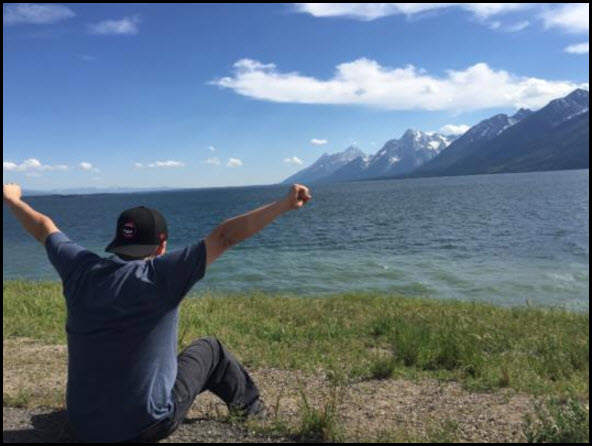 There are things we do in life that can be easily captured.  I would avoid photos where you're surrounded by other people though; at a sporting event for example.
You want the focus to be on you and other people in your photo simply take the focus off of you.  Photos like these add a dimension to your profile portfolio because most guys use selfies.
Don't Use Photos Of Your Pets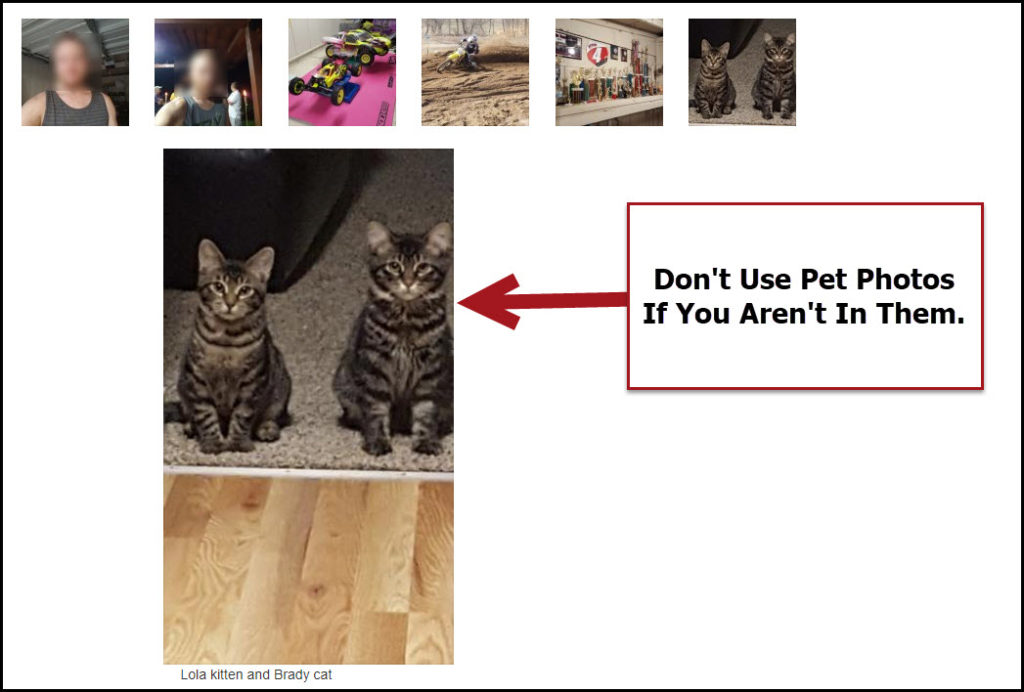 Another common mistake is when men have photos of just their pets. Remember my rule from above: If you aren't in the photo, don't use it.
Here's a fact, Zoosk found that people who post pictures of their pets on their profile reduce their popularity by 53%.
The only time a pet should be in your photo is if you're in it. And make sure it's a picture where you both are doing something and not simply posing; like playing frisbee with your dog at a dog park or running with your dog on a trail.
Holding your dog up to the camera to show how cute he/she looks phony and staged.
Do smile!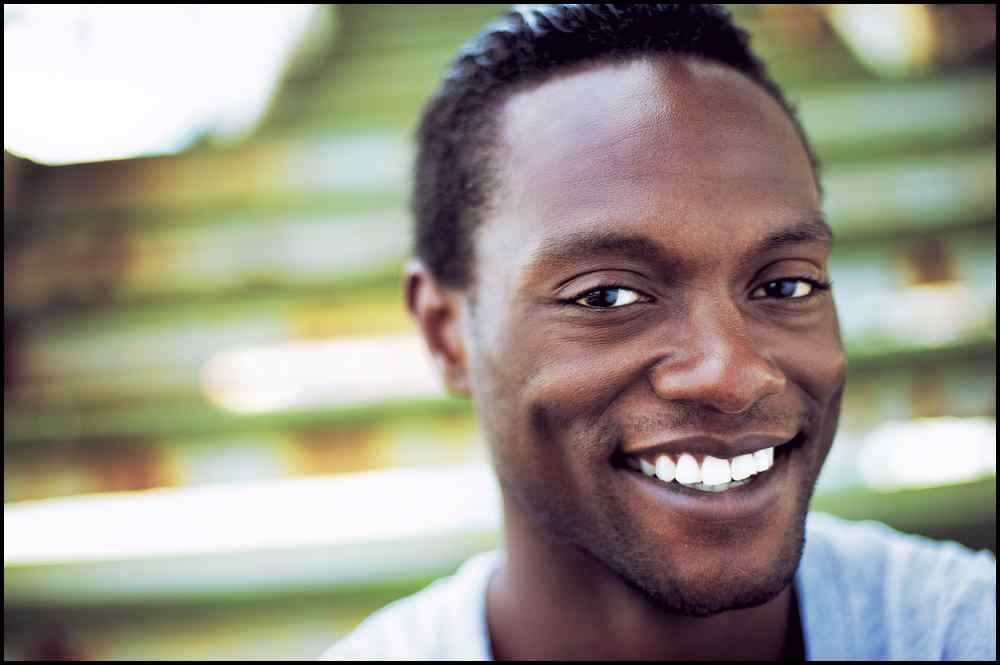 Lastly, it pays to smile in your photos.  According to Match.com, 71% of women judge a man by his teeth, so flash those choppers
The key is a natural free-flowing smile.  A smile signals kindness, friendliness, and means your approachable.
Please share your thoughts below. Do you have any photos you think need to be added to my list of do's and don'ts of dating profile photos?