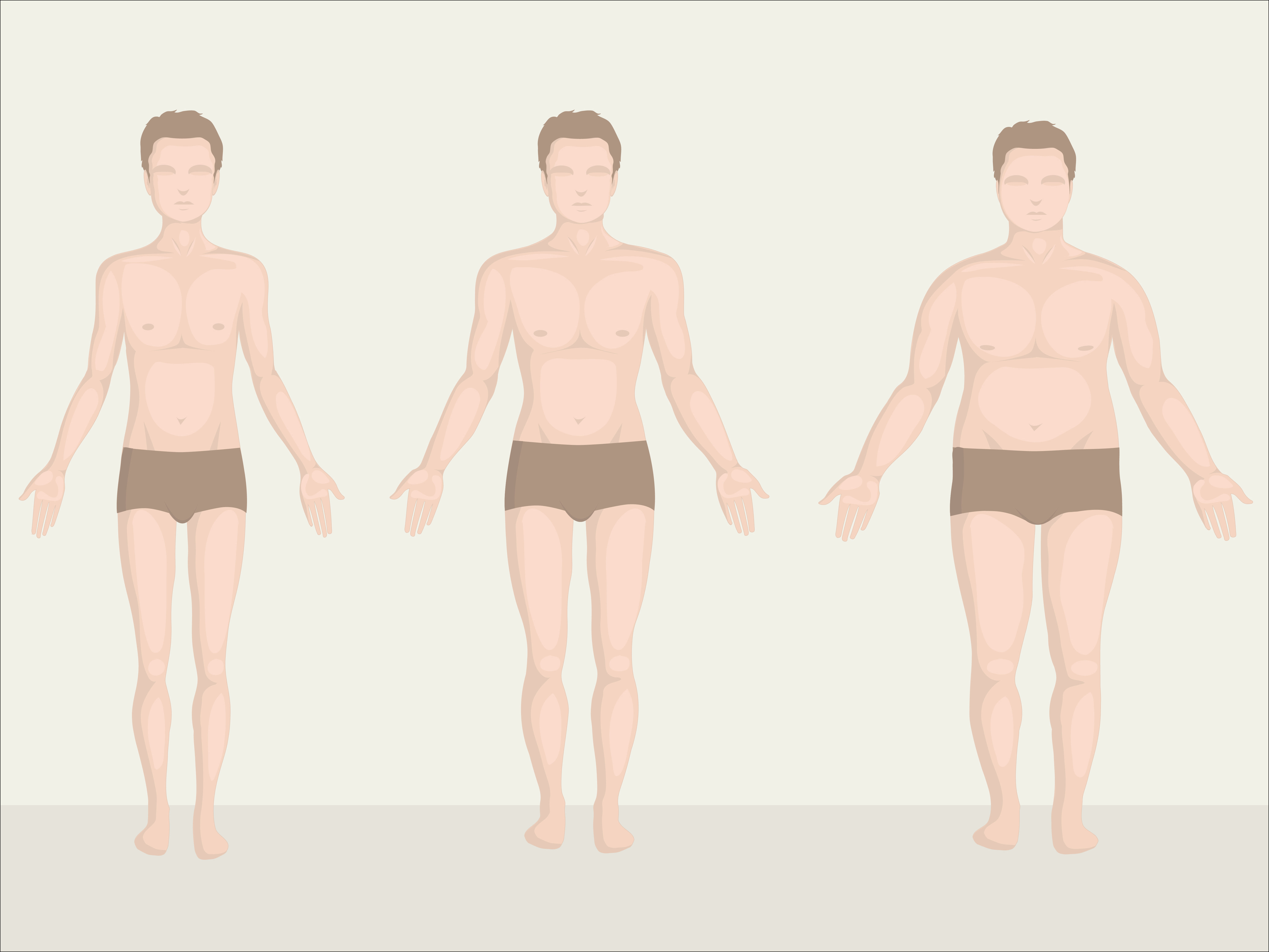 What Male Body Types Do Women Prefer On Dating Sites?
Women are open to dating men with average male body types according to a recent study. Women may dream of fit body types, but the reality is very different.
This doesn't make it any easier for men when selecting their body type on their dating profile.  On all dating sites, one of the questions you're asked to fill is your "body type."
Plentyoffish gives men the following choices for their body type:
Prefer Not To Say
Thin
Athletic
Average
A Few Extra Pounds
Big & Tall/BBW

Don't ever put "prefer not to say" by the way. It looks like you're hiding something.
Match.com has the following male body types to choose from:
Slender
About average
Athletic and toned
Heavyset
A few extra pounds
Stock

The body type entries vary across the dating sites but you can see that they are grouped in a similar fashion.  Men need to be honest with themselves when filling out this section in their dating profile.
This leads to the question, "which body type do women prefer in online dating?"  The results of one study provide insight into what type of physique women prefer.
Male Body Types Study
The study, Internet Daters' Body Type Preferences: Race–Ethnic and Gender Differences, wanted to determine how selective women were to body types and to which degree the dominant body ideal is accepted.
Over 5800 internet dating profiles were examined in Atlanta, Chicago, Los Angeles, and New York City. The daters were between 18-50 years old and were comprised of women and men. For the sake of this post, we'll examine the male body types women preferred.
The four regions were chosen to ensure diversity as all four areas have different racial-ethnic compositions. The study compared the body type preferences for dates between African Americans, Asians, Latinos, and whites in the United States.
The study grouped male body types into four broad categories:
Small – All selections of slim and slender were considered "small."
Average – Average was defined as "average."
Athletic – Fit and athletic body types were defined as "athletic."
Large – Extra, large, curvy, and voluptuous were defined as "large."

Male Body Types Study Results
According to the study, 78% of daters expressed some sort of body type preference.  Men and women were both likely to have some preference for body type, and among all race-ethnic groups, at least 75% of the daters expressed some sort of body type preference for dates.
Men are the most critical when it comes to body types. Men are 5 times more likely than women to prefer to only date those with thin or toned bodies.
The study found women may be interested in dating men with the ideal body type but were actually open to other body types as well.
In the study, 1,865 out of the 2,165 women who participated wanted men with fit/athletic bodies.  The study found 6% of the women said they wanted men with fit bodies, but only 13% of that group would stick to their guns and ONLY date men if they had a fit body type.  This showed most women say they want dates with fit athletic bodies but were actually open to men with other body types.
Other findings of the study were:
Non-white female daters are no more likely than white female daters to have a preference for a date's body type.
African-American, Asian, and Latino women are just as likely as white women to prefer the fit athletic body ideal for potential male dates.  Previous research found that African-American and Latina women are more accepting of heavier body types when discussing their own body. They are less impacted by mainstream media than white women and are more satisfied with their bodies and less constrained to the thin ideal body type.
Women also don't specify a body type when looking for a partner as often as men.  The study theorized women might generally be more timid about expressing preferences, or feel it is not socially acceptable to violate notions of romance by placing too much value on the body.
Final Thoughts
It should come as no surprise the study found men were 3.5 times more likely than women to have body preference types.  Fit/athletic women, however, are open to dating men with male body types other than "fit."
The ideal male body types aren't as important to women.   Yes, women may dream about dating the ideal body types; the fit athletic, ripped, Men's Health Cover model type of bodies.
But the study showed women are open to other body types as well; especially non-white women.
Some women will generally tell you in their profiles that they want only athletic body types.  You see it all the time: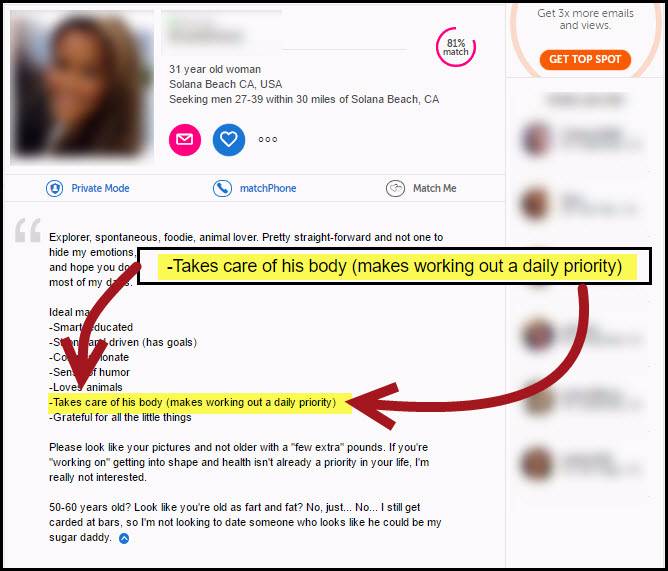 Don't let this scare you off. You can still get over these women with confidence, humor, and being assertive.  I certainly did. I am in average shape but through confidence and humor, I was able to date a lot of super fit women.
The last point I want to make is that if you aren't thin of fit, put "average" as your body type.  "Average" is one of the acceptable male body types to women.
If you are in good shape, by all means, state it.  If however, you are a little heavy put "average" instead.