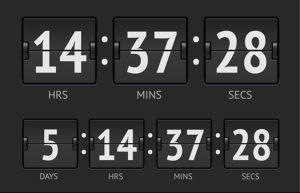 Don't Wait Too Long When Meeting Women Online
You need to meet a woman as soon a possible after you first exchange emails with her according to a new study.
There is a "tipping point" in time that starts the first time contact is made when you email a woman on a dating site until the first time you actually meet her.
Wait too long, and your chances for success goes down substantially.
The longer you wait when meeting women on dating sites, the more like you are to disappoint them.
Why You Must Act Fast When Meeting Women Online
A recent study, "When Online Dating Partners Meet Offline: The Effect of Modality Switching on Relational Communication Between Online Daters", examined this dating time line between initial contact and the first date between two people who met on a dating site.
433 people participated in the study; 265 were women.
The participants were asked to evaluate the extent to which their partner's communication behavior, attitudes, and overall impression met or exceeded their expectations based on their initial face to face meeting.
The results of the study found that when you email a woman and initiate contact, she may create a mental representation of you by reading your online dating profile and using that information to "fill-in-the-blanks" of who you might really be in the offline world.
The study theorizes that there is a "tipping point" when too much communication before a first date causes a person to idealize someone they're communicating with prior to actually meeting them face to face.
This naturally leads to a letdown when the two people meet and both fail to meet each other's lofty expectations.
So, the longer you wait when meeting women online, the lower your chances of success.
The "tipping point" occurs between 17 to 23 days from initial contact.
How The Tipping Point And Profile Pictures Are Related
I always say that you need to have 6-8 pictures on your online dating profile to maximize your chances of success.
The study backs this statement up.
The number of pictures you show on your dating profile is connected to this "tipping point".
The study showed that the number of pictures you have on your dating profile can also be an predictor of success in your dating life as well.
Here's why, the greater number of photographs you have, the less likely the woman will seek information about you. The reason is that when you have numerous dating profile pictures on your profile, you are providing information about yourself and reduce her need to question you about your physical characteristics.
Studies show that most people think people lie about their dating profile. When you display several pictures on your dating profile you are reducing this fear.
Act Fast When Meeting Women Online
Act fast, but not too fast. Don't be too eager.
If you believe the study, then you should shoot for under 17 days when meeting women on dating sites.
Daters experience the most positive outcomes when they move toward fact to face dates relatively quickly.
Remember, avoid this "tipping point" at all costs.
Don't let a woman paint a mental picture of you with high expectations you will never measure up to.
Get her phone number then aim for setting up the first date withing 17 days.