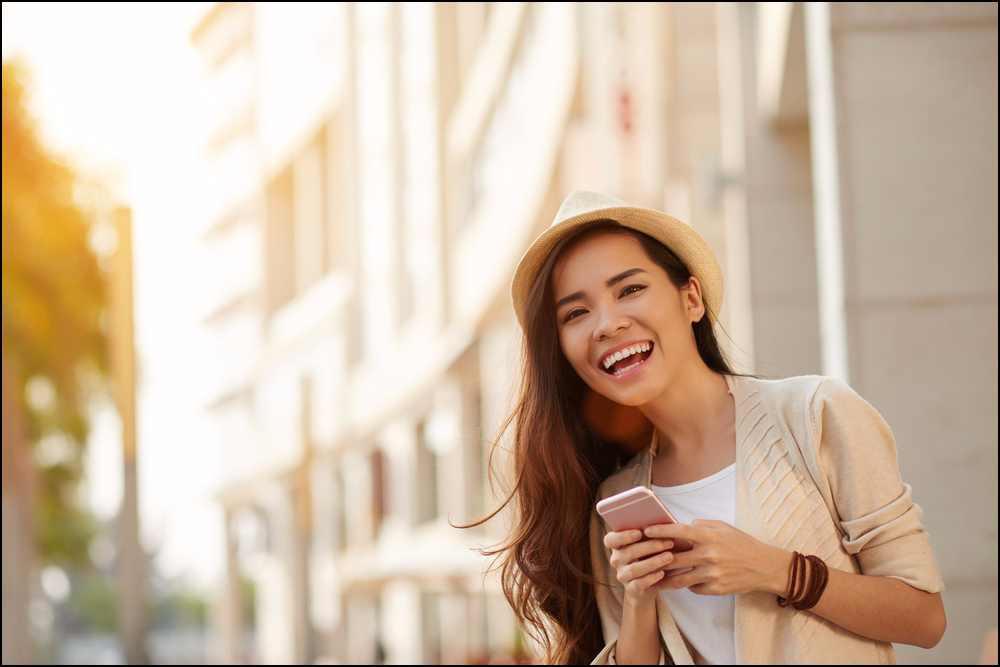 7 Online Dating Hacks That Will Improve Your Results
At your wit's end and frustrated with your results with women online? I've created a list of online dating hacks to help you gain an edge on dating sites.
Online dating can be merciless and maddening. You hear success stories of happy couples making you feel less than stellar because you can't get one woman to respond to your messages.
The thing is, achieving success isn't that difficult.  It's not rocket science, it's just online dating.  So, if you're ready to put in a little effort and cut the shenanigans I can help you turn it around.
Here is a list of 7 online dating hacks you can use that can fix mistakes your making and help you in the process.
1. Clean Your Social Media
Ghosting is a given with online dating.  It's happened to me.  It's going to happen to you.  It happens to everyone.
However, if you're constantly being ghosted you may want to take some steps to ensure you aren't actually shooting yourself in the foot.  Take precautions by cleaning up your social media.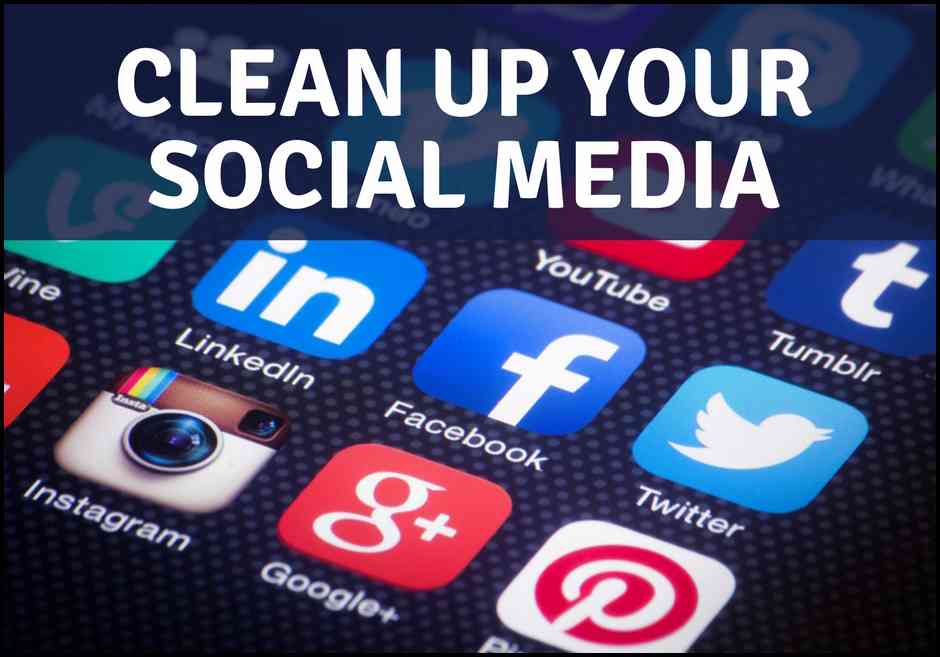 Women will Google you.  Women will track you down on Instagram.  Women will look for you on Facebook.  They might even look you up on Linkedin.
Why? Because they're making sure you are who you say you are.  This is online dating after all and women want to be sure you aren't some creeper.  The quickest way to do this is to search your social media for any potential red flags.
Don't believe me?
A blog post on Women's Health had one woman share this tip for other women:
"I SCOUR THEIR SOCIAL MEDIA….My number-one tip to weed out the not-so-great guys on online dating apps is to use social media to my advantage….I friend request him or check out his Instagram or Twitter…..it is it's better to see what I'm dealing with up front rather than after I've invested a lot of time and energy. And if a guy is hesitant to accept me as a friend, it's a red flag that he's hiding something…"
Match.com found 48% of women use Facebook to research a man prior to going on a first date. In addition, they discovered that 38% of singles would cancel a date based on information they found on Facebook.
Women dissect everything and if they see one little hint of a red flag anywhere, you can kiss your chances bye-bye.
2. Scope Out Your Competition
Here's a tip most men never do; look at other men's profiles on your dating site. Why? Because you need to stand out and separate yourself from the other men who are competing with you for women.
You don't want your profile to look like every other guy.  Your dating profile needs to stand-out.  The best way to see how your dating profile stacks up against other guys is to actually read their dating profiles.
So, here's what you do.
Look at your photos then read your dating profile, your entire dating profile.  Don't just focus on your photos.
Do it again.  You need to know exactly how your present yourself on your entire profile.
Now it's time to check other men's profiles.  Be sure to look at guys who are in your age bracket and pay attention while looking at their profiles.
Go through at least 10 other guys dating profiles.  I recommend more.
Once you've gone through these steps answer these questions:
Is your profile similar to the other guys?
Are your photos just like everyone else's?
How does your username stack up? (I told you to look at your entire dating profile didn't I?)
How do the other guys write about themselves?
If you can't differentiate how you present yourself from every other guy, imagine what it's like for a woman. She'll see no reason to contact you.
3. Get Advice from Women
Do you have any female friends? Ask them to do a once over of your dating profile.  The key is to make sure your friend doesn't pull any punches. You want an honest, no BS analysis of your profile.
Don't just stop there.  Read women's magazines. Check out blogs that are focused on women; Cosmopolitan and Women's Health, for example.  These sites give women constant tips for what they deem as Mr. Right and Mr. Wrong.  Use these resources to see what category you fall into.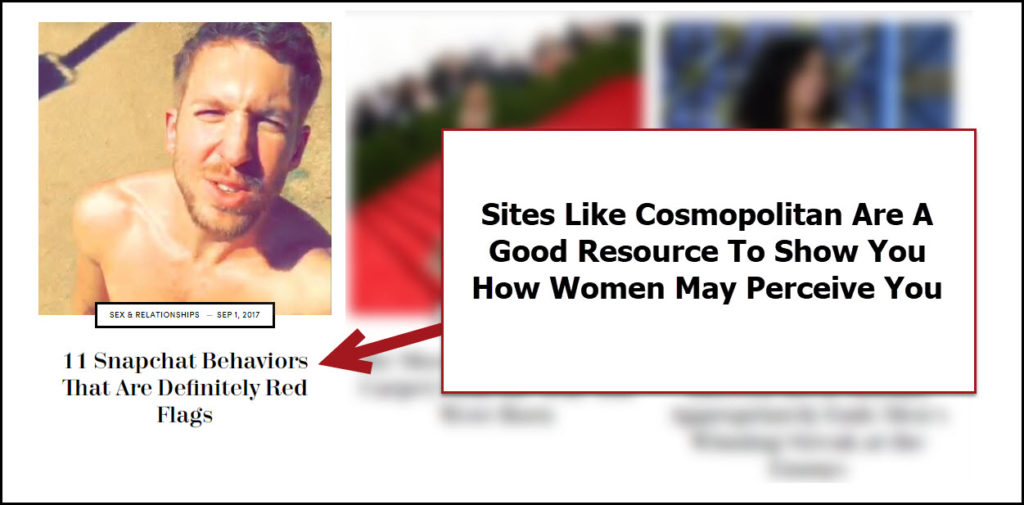 I'm telling you these resources are a treasure trove of information you can use.  These resources are among the best online dating hacks to help you.  You can learn from other men's failures and see if you're doing things wrong yourself as well.
4. Seek Help Online
There are tons of resources available to men for online dating.  This site for instance.  Seriously, bookmark it.  Yes, it's blatant self-promotion but I have a ton of content to help you.
Photofeeler offers great photo tips for men.
OkCupid has good tips too.  You just have to dig through the fluff to get to the good stuff.  It's there though.
Reddit has a good forum dedicated to OkCupid but the tips apply to any dating site.
The key is if you aren't seeing results you must be proactive. Don't sit and expect good things to happen.  You'll continue to be ignored and get frustrated.
5. Create Multiple Dating Profiles
Here's one of the lesser known online dating hacks that can have a huge benefit to you; I highly recommend you join 2 dating sites and put up a unique profile on each site. I suggest using a paid site but there are several "free" sites you can use. The reason I like paid sites is I feel women who spend money to meet someone are more serious than women who are on free sites.
Either way, you should join two dating sites; you could be on OkCupid and Match at the same time. Or maybe OkCupid and Eharmony.
When you do this, be sure your dating profiles are different but at the same time represent who you really are.  You want to use different photos and write about yourself in a unique way. You're doing what in marketing lingo is a split test, or A/B test.
An A/B test for your dating profile is when you put up two profiles and see which does better.  You can scrap the one that does worse and redo it completely or maybe copy elements from the better performing one and tweak it.  Do this once a month.
The benefit of this is that you're exposing yourself to more potential options AND determining what type of approach will work for you more quickly.
Think this is a lot of effort?  Well, how important is it to you to meet someone online?  If meeting someone is important, make the effort and the rewards will be huge.
6. Change Up Your Dating Profile
I recommend making changes to your dating profile at once a month. This means to change your photos around, your written section as well as new email approaches.   A month is an eternity in online dating.  I'm not saying completely revamp it.  Just tweak it.
I mentioned in Step 5 how you should split test multiple dating profiles and change it once a month.  That way this step doesn't impact that one.
However, if you decide to go with only one dating profile you must switch it up.  I can't emphasize this enough.  You can't just keep your profile the same.
Tweaking your profile will keep your it fresh and current.  New photos may attract women who ignored you in the past.  You may add a recent adventure or trip that could pique a woman's interest.
Do this until you're getting the results you want.  Once you get great results you can continue to make small tweaks and improve even more.  You'll get better with practice, trust me.
You can't have a boring empty profile and messages to women that just say "Hi". You'll never meet anyone if you put in a low effort.
Remember this, if women aren't responding to your messages or contacting you, it's not them, it's YOU. It's always you.
7. Don't Overlook The Small Things
Women judge you by everything on your dating profile.   Don't overlook the small things on your dating profile because women may reject you for something you think is harmless.
Let's take spelling and grammar.  How important are these to women?  Here are some facts:
65% of women would let grammar get in the way of pursuing a date according to Zoosk.
69% of women in one Match.com survey judged men most on the grammar in their profile.
Zoosk found that spelling errors in your dating profile result in 13% fewer messages from women.
Of course, your photos are important too.  Let's take something as simple as a smile.  Smiling is critical.  Women will notice if you don't smile in any of your photos.  How important is this to women?
The website Photofeeler analyzed over 800 photos and stated: "by far the most impactful characteristic we found in this study, though, is a particular kind of smile."  The kind of smile?  One where you show your teeth.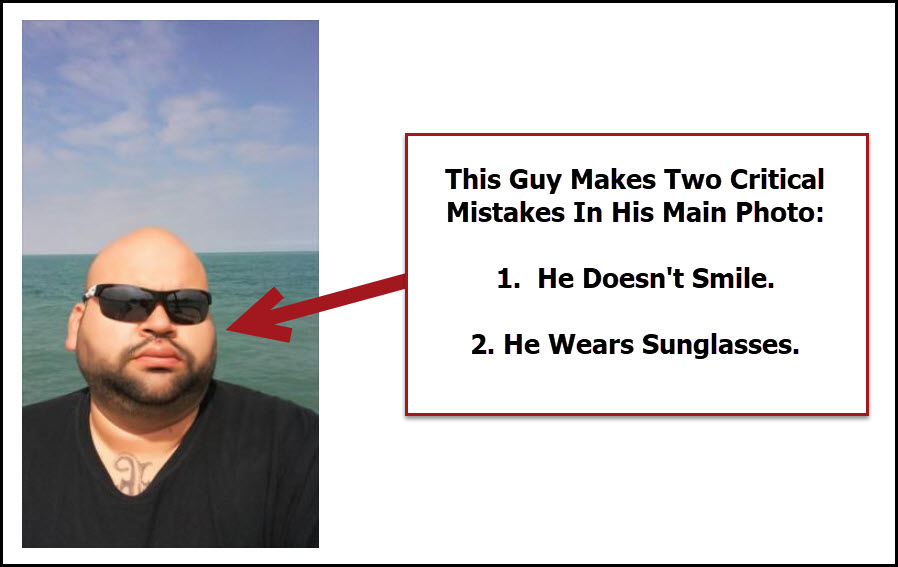 Photofeeler found a smile with teeth visible makes you appear more:
Competent
Likable
Influential
As for sunglasses, Photofeeler found wearing them in your photo can "significantly harm your impression" and drops your likability but a substantial amount.
Now let's look at your summary section; you know, where you write about yourself.  You can't ever appear negative on your dating profile like this guy.  It's a definite red flag to women.

You might leave holes in your profile. Think about the setting below; "Prefer Not To Say."  It looks like you're hiding something.  Do yourself a favor and fill your dating profile completely.

Final Thoughts
I encourage you to go through each of these 7 online dating hacks and use them.   Each of these tips will help you stand out and help you avoid making mistakes that can be fatal to your results.
If you want to succeed on dating sites you can't just half-ass it.  You need to make an effort.  After all, what woman is going to want to date a guy who puts forth hardly any effort?
Would you find any of these online dating hacks useful? Leave your thoughts below and feel free to add any online dating hacks that you deem beneficial.