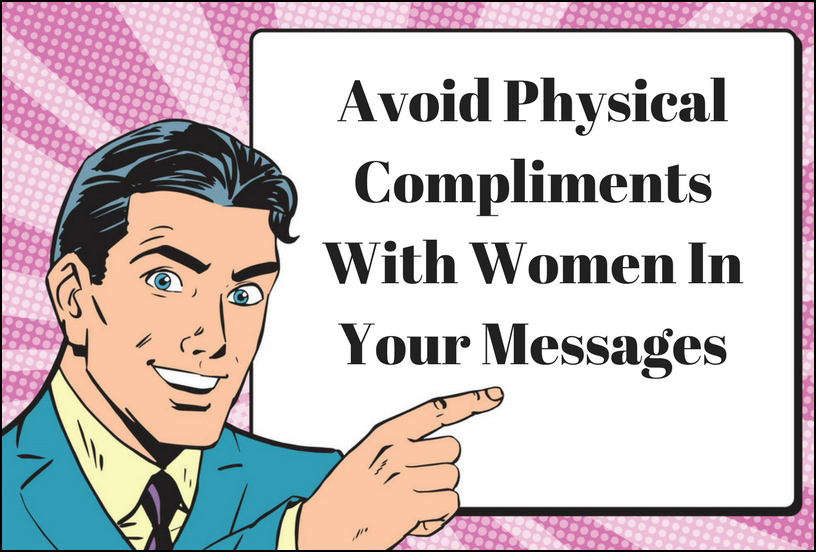 Avoid Physical Compliments With Women
Physical compliments with women in messages don't work. Dating sites have found men actually receive fewer responses from women when using them.
So, stop telling women they're attractive in your messages. I'm just amazed at how often men will tell a woman she's pretty in their first message.
You're showing that you only value her looks and have nothing to say.  If you think physical compliments with women are a good approach in your messages, you're dead wrong.
Proof Compliments Are The Wrong Approach
Dating sites have analyzed messages between men and women and the results are clear; complimenting women hurts the response rates for men.
Zoosk found men are penalized using the following terms in their messages to women:
Sexy – 13% fewer responses
Beautiful – 20% fewer responses
Cute – 24% fewer responses
Gorgeous – 22% fewer responses
OkCupid has looked at this for years and also found it's not a good idea for men to use physical compliments. One blog post from OkCupid said, "You might think that words like gorgeous, beautiful, and sexy are nice things to say to someone, but no one wants to hear them."
Below are a few findings from OkCupid.


What Attractive Women Deal With
My friend Lisa shared with me the type of messages she has to deal with on a daily basis. It's jaw dropping.
She is a very attractive woman and well over 90% of the men who contact her tell her she's hot. Look at these messages:







It's no wonder men have abysmal response rates. If you use this approach you are shooting yourself in the foot. Why? Because every other guy is doing the same thing.
Your compliment makes you look like every other guy. Do you see why physical compliments with women don't work in your messages?
Redditors Weight In
The problem of physical compliments in messages to women is so common that one Redditor posted this:
"Hello Gorgeous/Beautiful. I suppose this is primarily addressed to women, but anyone else get these and get totally grossed out? Why is this?"
And boy did people respond.  Here are a few of the better responses:
"It's a general assumption that you found someone attractive if you messaged them. You're wasting your message telling someone the sky is blue."
"…you're signaling that her only worth and value is her looks."
"…half of the other dudes out there are sending something equally as dumb and this does nothing to help you stand out…"
"How the hell am I supposed to respond to that? "Thanks" ? Where does a conversation go from there?"
"All of this, ask me about something I like to do or my favorite movie instead. Let's bond over loving Chinese food or people watching or bash a show we both hate. AKA show me you looked at my profile instead of just the pictures."
"…you telling me you find me physically attractive does not make you more attractive to me.  In fact, the opposite, because now you've made it all about looks rather than a personality match which is much harder to find.  I'm going to assume you didn't even read my profile.  Which is unattractive."
Create A Message That Stands Out
So you ask, "OK Chris, physical compliments with women don't work, what type of message does work?"
It's simple really.  Just keep these in the back of your head:
Read the woman's profile and comment on something she writes about.
Stay away from commenting on photos.  Zoosk found men who comment on photos receive 25% fewer messages.
Ask open-ended questions.
Stay away from questions that can be answered with a "yes" or "no".
Don't message sex.
Remember, no physical compliments.
Using this approach shows you took the time to read her profile. While every other guy is commenting on a photo you show you're a man worth getting to know because you took the time to read her profile and ask more personal questions.
If you want to know how to create a good first message.  Visit my previous blog post: What to Say In A First Message To Women.
Final Thoughts
Don't tell a woman she's attractive in your messages.  It's going to come across as a line, even if you're really sincere.  Physical compliments with women is an approach most men use which is why most guys have abysmal response rates.
If you really want to stand out in a woman's inbox, craft a message that shows you read through her profile and stay away from telling her she's attractive.
Keep it Ninja!
What are your thoughts? Do you stay away from physical compliments with women in your messages?