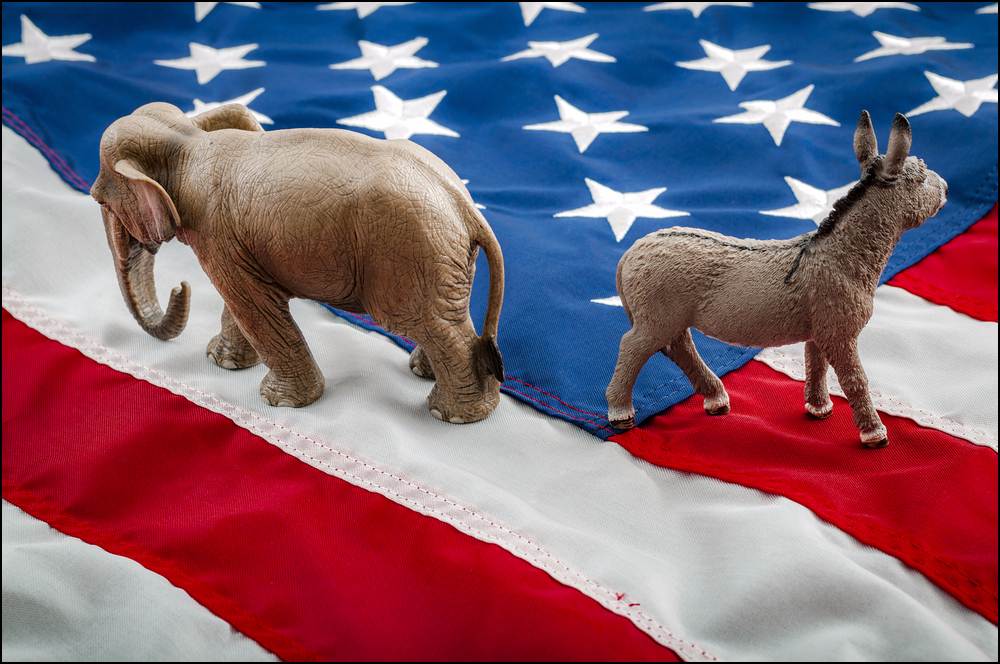 Is There a Connection Between Politics and Online Dating?
Yes! Dating sites have discovered your political beliefs have an impact on women online.  Women are seeking men who share their political beliefs more than ever.
In a previous blog post, What are the Politics of Online Dating? How YOUR beliefs can impact your results!, I shared how women who share your political beliefs will find you MORE attractive. The blog post was based on a study from a few years ago.
But what about now? Times have changed. Politics and online dating have become more divisive.
How many times do you scroll through women's profiles and see them tell you to not contact them if you don't share her political views like this?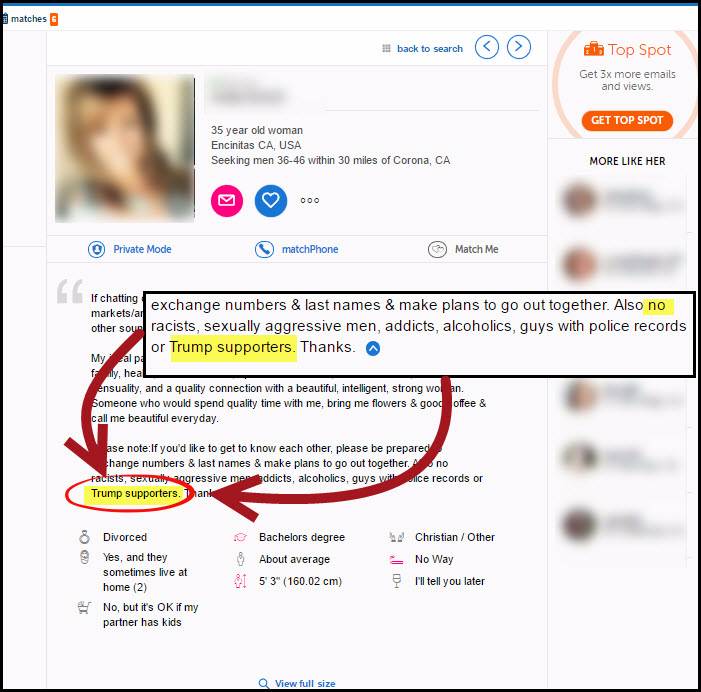 Let's look at some recent findings by some major dating sites about politics and online dating.
Politics and Online Dating According to POF
In 2016, POF found 1/3 of single women were willing to date a Trump supporter but in 2017 the number nearly doubled to 55%.
26% of women remain undecided about dating someone with different political views.
75% of men said they would date a Trump supporter with only 10% refusing.
Another survey by POF polled 7,000 men and women and found 43% think politics should only be discussed ONLY when someone else brings it up. 27% of respondents believe politics should NEVER be brought up on a date period.
Political Findings of Match.com
Match.com surveyed over 5,000 adults and found 25% wouldn't date someone who isn't registered to vote.
35% of participants said they wouldn't date someone who "does not have an opinion on key political issues."
Coffee Meets Bagel – Dating and Politics
The dating site Coffee Meets Bagel polled over 1,300 members to discover the impact politics had on their dating lives. The members were asked the following questions:
Are politics impacting your daily lives 'slightly' to 'profoundly?'
70% of Democrats said yes
55% of Independent singles said yes.
43% of Republican singles said yes
"It's more important that my matches' political views are similar to mine."
82% of Democrats said yes
66% of Independents said yes
66% of Republicans said yes
"It's more important for me to talk about politics early on in the date."
40% of Democrats said yes
34% of Independents said yes
22% of Republicans said yes
"It's more important for me to talk about politics early on in the date."
34% said love and politics should be kept separate
32% said they are not that political
24% said politics don't matter when it comes to love
It's Just Lunch Political Survey
The online matchmaking site It's Just Lunch surveyed it's members about politics and online dating and here are some of their findings:
33% have experienced a "ruined date" because of a date's political opinions and of that 33%, 18% wouldn't give their date a second chance.
50% of single women think dating someone with opposite political views was fine for the short-term but not for the long-haul.
38% of women avoid dating men with strong political opinions.
40% of the ladies think it's risky to talk politics on a first date.
Tinder Members Political Views
Over 7,000 Tinder members, as well as over 2,500 millennials, participated in a study and one of the findings was that 71% of the participants said that differing political views were a deal breaker.
In fact, almost one-quarter of Tinder members surveyed said that "political disagreements would be the number one reason to call it quits with an online match."
Final Thoughts
If politics is important to you, then you should mention it on your profile so you can find a woman who is your ideal match.  Also, mentioning your political views will allow you to not waste your time, or hers.
It comes with a price.  By sharing your political beliefs on your profile, you will get FEWER women contacting you, but you'll find BETTER matches. Remember, women who share your political beliefs find you more attractive.
If politics aren't an issue for you, then email whomever you want but if you're on the opposite end of the political spectrum as the woman below, for example, then don't waste your time, or hers.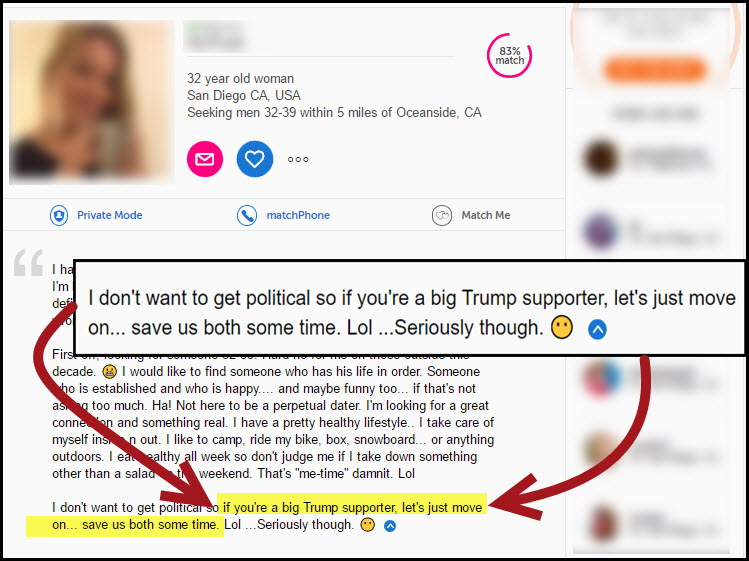 What are your thoughts on politics and online dating? I encourage you to leave your thoughts below.