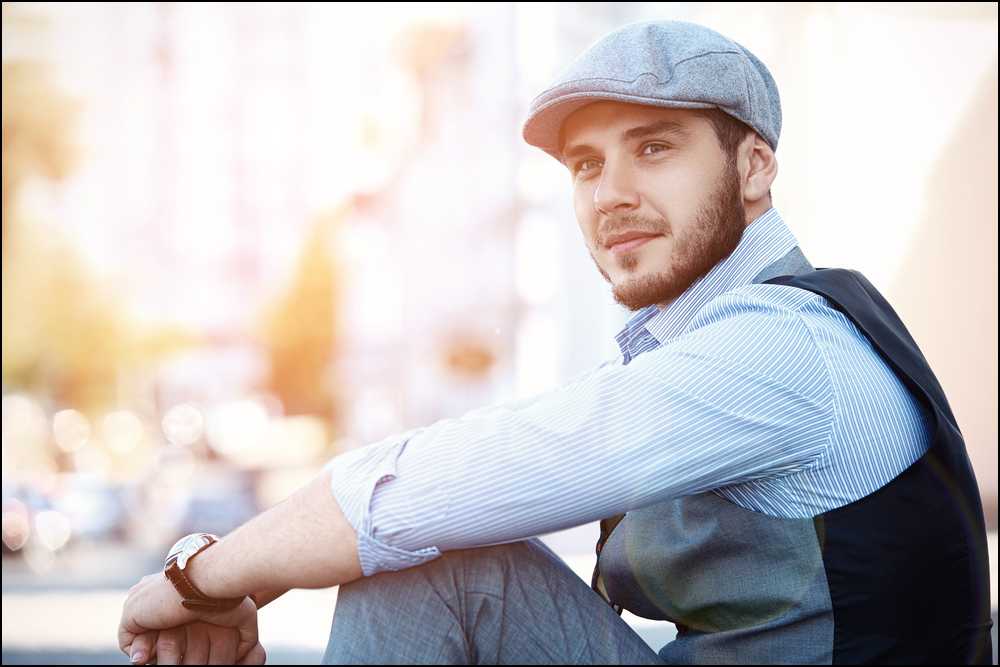 Online Dating Tips For Shy Guys
For all the shy guys who have doubts about online dating!  Here's a list of 7 online dating tips for shy guys which give insight into online dating and hopefully help you meet someone special.
First thing is there's nothing wrong with being a shy guy. I'm not here to tell you to change who you are but you MUST overcome your shyness if you want to meet someone online.
As a shy guy myself, the tips below are a list of tips I created for shy guys who are thinking about joining a dating site or just need help in general.
1. Just Put Yourself Out There
The first tip is to get off the fence and join a dating site.  There's no better way to meet someone.  Seriously.
PEW Research Center found 15% of American's have used online dating.  eHarmony found 47.6% of online daters are are women. There are literally millions of women are on dating sites right now.
With so many women online there IS someone out there for you so the longer you sit around and delay joining a site, the less likely you are to meet someone.  Your perfect match may end up with someone else because you aren't willing to make a move.
Are you afraid? Accept the fear. Sure it's scary but it's worth it. Dive in head first. This is no time to dip your toes to "see what's out there."
This leads to my next point…
2. Make An Effort
Here's an equation you need to know about online dating: Half-assed effort = half-assed results.
You must show women you're serious about meeting someone and the best way is a fully complete dating profile. Don't think you can put up a few sentences in your self-summary section or use a few selfies for all your photos. Go all in.
Think about it, if a guy puts up 1 photo and writes "I live life to the fullest, love Netflix, and am spontaneous" in his self-summary section it shows a complete lack of effort.  Why?  Because it's vague, boring, and nothing but a cliche.
Take Nic here (and yes, this is an actual dating profile):

Women see this and link the amount of effort Nic is going to put into a relationship with the amount of effort he puts into his dating profile.  I assure you Nic doesn't get many dates because of this section of his profile.   Nic expects women to do the work and contact him first.  That's not how it works.
So take the time to put up a rock solid dating profile. This means:
Put up several photos (no selfies).
Have a good username.
Fill out every section of your profile where you have to pick from choices (kids, smoking, education level, etc..)
Write about yourself in a friendly, engaging way (share your passions and interests).
Never leave a question blank on your profile or put I "prefer not to say" or "I'll tell you later."
Shy guys typically don't like the spotlight but you need to get over it. No woman's going to choose you if you don't share some details about your life.
3. Be Confident
The meek and spineless are left in the dust on dating sites. The men who do the best are the ones who exude confidence throughout their profile and messages.  The most critical of the online dating tips for shy guys is to be confident.
Even if you're not confident fake it until you make it. I'm not saying you have to change your personality but you have to be willing to take a chance when it comes to putting up a dating profile and reaching out to women.
For your photos:
Stand erect
Make eye contact with the camera
Smile
Don't appear passive (i.e. slouching)
If you go into online dating with an "aww shucks" or "I figured I'd give this a try attitude" you're going to fail.
For example, when you write about yourself don't write "I figured I'd give this a shot" or "I don't know what to write here." These type of comments show a complete lack of confidence and believe me, plenty of men write one of those sentences above.
Instead, write "I'm here for a relationship."  That's what you're online for right?  Own it.  It shows you're a man who knows what he wants.
Women can sniff out confidence.  It's a turn-on for them.  So if you can exude confidence you're on the right track.
4. You're Going To Get Rejected
Every woman you send a message to isn't going to respond back; deal with it. Don't be afraid of rejection. That's the nature of the game.
Never take it personally either. If you put up a solid dating profile and she isn't interested, at least you know you did your best. It's her loss.
And don't be afraid to email women you're interested in.   Wayne Gretzky said it best: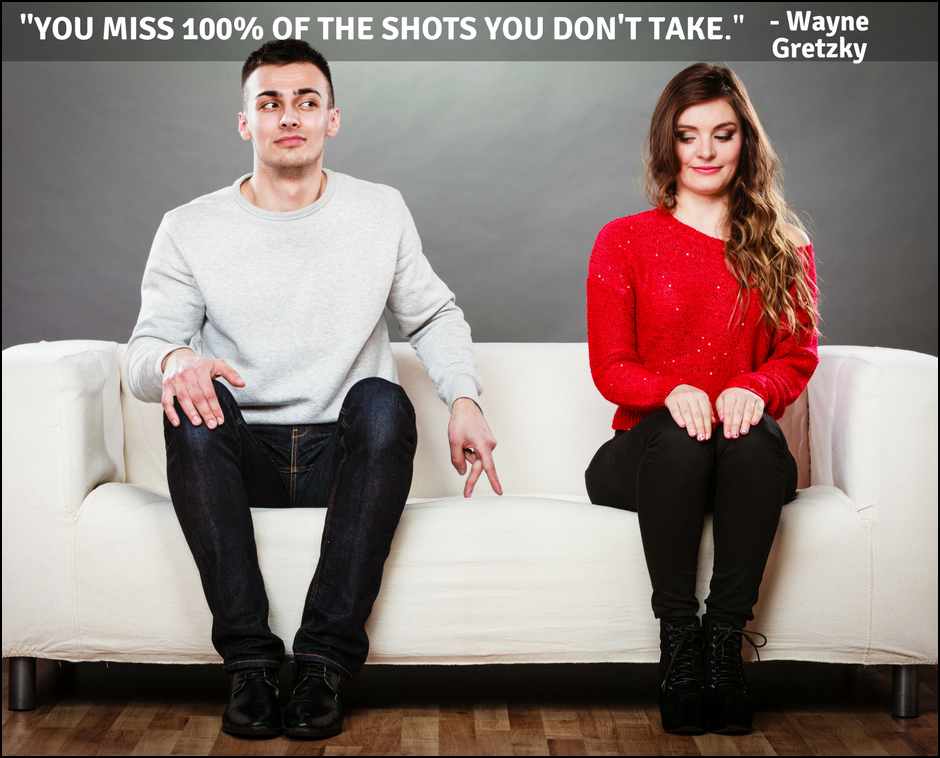 That beautiful woman on the other end of the screen MIGHT respond.  The risk is worth the reward. What's the worst that can happen? They don't respond or tell you no? Big deal.
Trust me on this; there IS someone out there for you. Don't get frustrated, discouraged and by all means, never quit.
There ARE women out there who are looking to meet you. They just haven't found you yet.
If you want some email tips, check out my blog post Critical Online Dating Email Tips for Men According To Zoosk.
5. Carry A Positive Attitude
Everything you present (photos, self-summary, headline, messages) all show your "energy".  Women can read a profile's energy and quickly know if you're full of it or not.  No, I'm not trying to get deep here and discuss your place relative to the universe when mentioning your "energy".
I'm talking about your overall attitude. It will carry over in how you present yourself to women.  Guys who put up negative dating profiles don't do very well.
When I say a negative profile I mean profiles where you list what you aren't looking or how you "aren't here for games or drama."  A lot of men share what they "aren't looking for" on their profile.  Women will see this negativity and say "no thanks" and choose someone else.
As you create your profile make sure you're in a good mood.  It will boost your results.  POF found men who have positive dating profiles receive 23% more incoming messages from women. There's a reason; no woman wants to deal with a bitter guy. They want someone who'll put a smile on their face.
6. You Have To Make All The Moves
You can't just sit around expecting women to email you once you put up a dating profile. You have to initiate contact for the most part.
Will women contact you first? Sure. It'll happen, but don't count on women contacting you first for a lot of dates. You need to be the aggressor because women like being chased.
And don't be wishy-washy.  Women aren't on dating sites for email buddies. If you're the type of guy who engages in long email chains, trust me on this, some other guy is going to swoop in on her because he's being more assertive than you are.
So, if you find yourself emailing a girl and your emails have become messages like "How's your day" or "How's your night going?" it's time to man up and get her number. If she uses a chat app that's fine too. The key is getting her to communicate offline so you can meet for that first date.
Don't become an email buddy. It never works. Once you make a few email exchanges ask for her number and when you ask her out be sure you have a plan.
7. Constantly Adapt
One thing most men rarely do is to change up their profile.  You'll gain an edge if you change your profile once a month. This means to add new photos and change your self-summary (written section).
The majority of men put up a dating profile and leave it there to collect dust. No changes. Nada.  This is a mistake.  You need to keep it fresh.
I don't mean scrap it and redo it. Just adjust it.  If you took a recent trip or did something fun recently, take a photo and add it to your photo portfolio.   Maybe you want to share new hobby you've taken up.  Go ahead and write about it.
You never know, a girl who overlooked you last month may see that new photo you put up with you doing something fun or interesting. It might pique her interest and then she'll read your profile and what do you know, she'll send you a message.
Final Thoughts
Don't let joining a dating site scare you. Think of online dating as an exciting way to meet someone. Your match is out there; you just haven't found each other yet.
This list of online dating tips for shy guys will help you.  In the end, have fun with online dating.
It's a marathon, not a sprint. You're not going to find your soulmate on day one but if you stick with it, you'll find someone. Trust me on that.
Leave your thoughts below. Feel free to add your own online dating tips for shy guys.