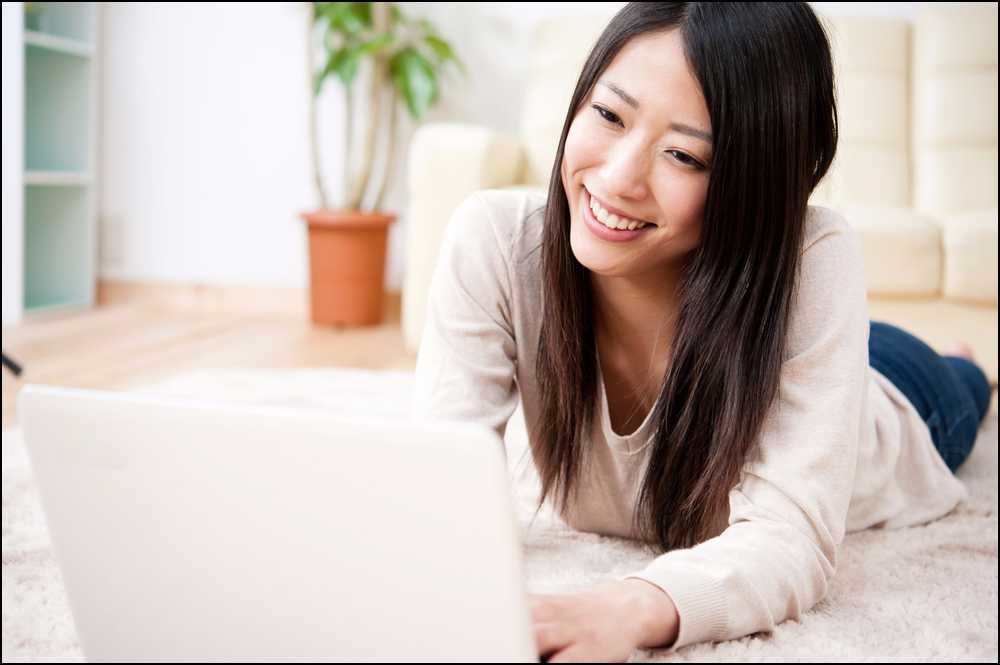 What To Say In A First Message To Women On A Dating Site
Just saying "Hi" or "How are you?" in your first message to women won't cut it. You need to be a little more engaging.
Getting women to respond to your first message is actually a piece of cake. If you've ever wondered what to say in a first message, I've got you covered.
Simply follow the 4 Steps below to craft the perfect first message so you can  get more responses from women.
Step 1. Read Her Profile
Go figure! When you read a woman's dating profile and comment on it, you show her you're actually interested in getting to know her.  Most guys comment on photos or use a lame opening message like "Hey" that show a complete lack of effort.
Jess Carbino, Tinder's sociologist, shared that "7 in 10 Tinder women want your message to show curiosity.  Ask about her profile."  This is key; you must ask a question about something on her profile.
By commenting on something in her profile you're separating yourself from all the other men flooding her inbox with awful messages.
Step 2. Find Something To Comment On
As you're reading through her profile, look for "keywords" that you can comment on in your messages.  These "keywords" should be something YOU HAVE IN COMMON because, in step 3 below, you're going to create questions that will show her you have common interests.
I look for words like "wine, music, movies, cook, bands, books, beer, pets," as well as outdoor activities like hiking or kayaking.  I'm not much of a traveler nor do I volunteer anywhere so I never comment on these topics.
Think of what your passions, interests, and hobbies are.  As you read through a woman's profile look for keywords associated with your lifestyle and preferences.  These are what you are going to talk about in your messages to create a connection with her.
Step 3. Create Engaging Questions
Once you choose a couple of keywords, think of 1 or 2 engaging questions to show the woman you actually have something in common.
A lot of guys fail here because they choose to simply write; "We have something in common."  This is a horrible message because you've shown her NOTHING.  All you've done is tell her you have things in common.
Now you're expecting the woman to do the work of reading through your profile to find exactly what you have in common.  The better option is to show the woman you have something in common with your message.  How?  Keep reading.
Step 4. Write Your Message
Now comes the hard part for most men; writing a message. Relax, it's easy.
Let's look at the message I wrote to the woman below here in San Diego.  I read through her profile and focused on her keywords "craft beer" and "scary movies."
You can read my "notes" on the screenshot. Be sure to read my tips at the bottom of this post to get a more detailed analysis of what I did in my message.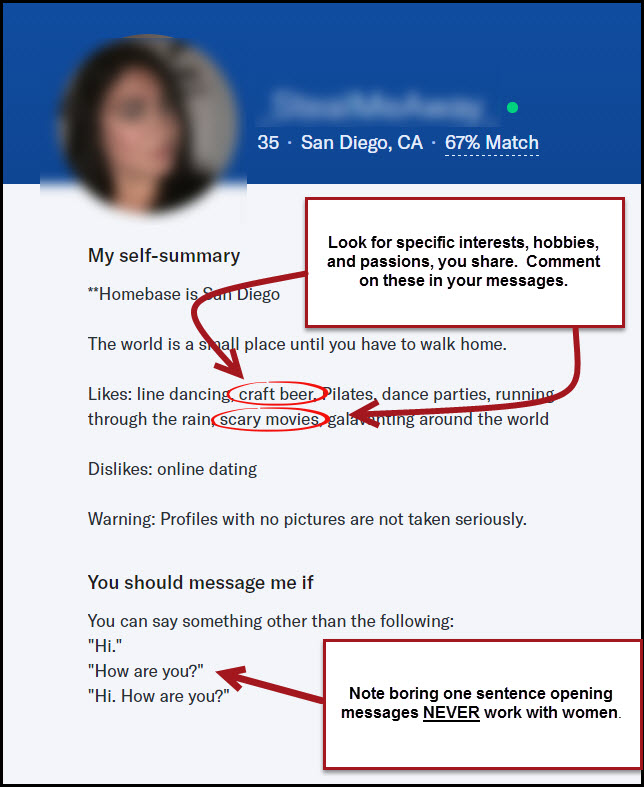 My First Message: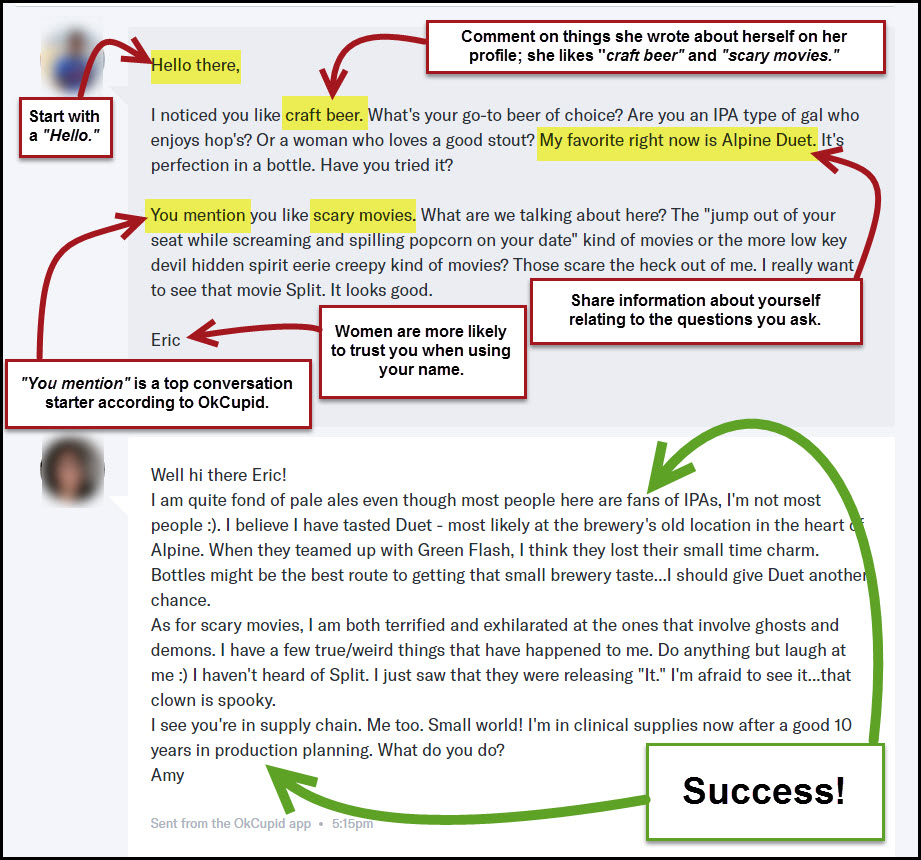 What To Say In A First Message Tips
 Always begin your message with a "Hello."
 OkCupid found certain phrases had the highest response rates from women which I discussed in another blog post.  In this example, I use one of those terms, "You mention."
 I comment on things she wrote about herself and NOT her photos. Most men comment on photos or say a few words like "How's your night." Not me, I focus on her liking "craft beer" and "scary movies."
 I ask her questions about "craft beer" and "scary movies" and also give information about myself with regards to these same questions. I've found women are MORE likely to respond when I give them information about myself. It's tit for tat.
 Note how I show we have something in common. Most men write "We have a lot in common." That never works. Always show it. I do this by asking questions and opening up about myself.
 Always share your name at the end of your emails. Women will trust you more when you do this. This is your real name, not your screen name.
Final Thoughts
Most men are clueless when it comes to what to say in a first message to women on dating sites.  It's not rocket science fellas.
It's actually pretty easy.  Just follow the steps above and you'll stand out from the men who using boring canned opening lines.
Leave your thoughts about what to say in a first message to women below. I would love to hear from you.