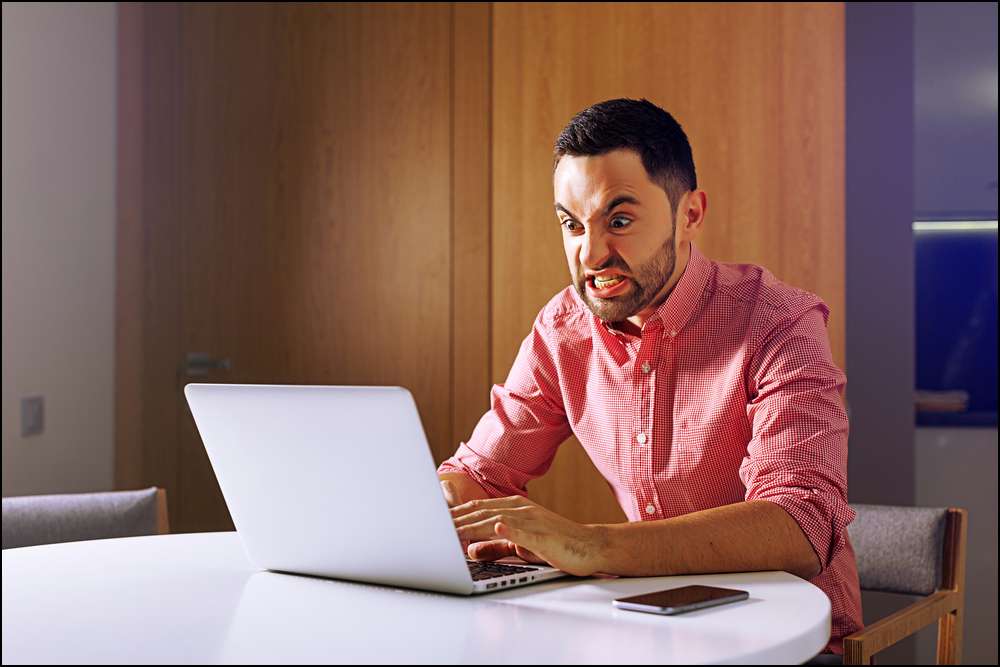 Women Don't Respond To Your Messages; Now What?
Here's a tip for you; if women don't respond to your messages or tell you she's not interested, don't feel the need to insult her or plead with her to reconsider.
If a woman tells you she's not interested just move on.
Women don't OWE you a response to your messages. Yet, many guys feel entitled to a response.
Don't be the guy who ruins it for the rest of us because you can't take rejection.
Hey, it happens. Every guy sends messages that go unanswered. It's no big deal. It's part of the online dating game and even though it may be frustrating, let it go.
However, if you don't hear back from a woman, I have an approach you should use for your second message. I share that tip at the bottom of this post. But first, let's look at how most men deal with not receiving a response back.
The Types Of Messages Women Receive
I wanted to know the types of messages that guys send to women when the women either didn't respond of politely told them "I'm not interested."
I decided to ask Redditors, "What type of messages to guys send you when you don't respond to them?"
Take note of these women's responses. Let it be a guide to you as to how you should NOT act if women don't respond to your messages:
"What, not even a hello? That's disappointing."
"Guess I'll just go fuck myself, then."
"Why do you even have a profile on here if you don't reply? To make a fool out of guys like me?"
"As for men whose initial messages I don't respond to, generally the next message from them is the same copy paste they sent the first time, because they simply don't remember spamming me last time."
"I responded to a few of those copy paste double messages lately, pointing out that they sent me the exact same message a couple weeks/months ago. One guy didn't respond. Another said he just wanted to make sure I got the message and one said, "Oh so you must be too good for online dating, then?"
"Someone told me to "grow up" a few days ago when i said no thanks."
"Last night some dude went on some rant after I didn't reply about how he fell in love with some girl in like 9th grade and how he was still in love with her and was just trying to bang his way into forgetting her. Why did I reactivate again?"
"I've had guys write first messages with "not even going to say hello?" shit when I've never even visited their profiles."
"When it happens they send me the same message again or just "you there?""
"Once a guy was like "it's okay you can just tell me you're not into me. You don't have to ignore me." I visited him twice because I was trying to decide if I could drop my size preference because everything else was so good. I almost gave that fat dude a chance until that message."
"When I don't respond in the first place, I've been accused of not being a real person (seriously?), guys noting our match percentage and when I was online (why), and ghosting (don't you have to have a conversation first??)."
"I often get insults sent back when I send a 'thanks, but no thanks' note. But this one is memorable. I finally replied to one guy that had been regularly sending messages over the course of several months….I finally gave him the "you seem nice, but I don't see a connection, good luck out there" spiel. What I got back was a torrent of barely coherent phrases begging and demanding to know why. His last was "But why not meeeee??" That is verbatim, btw, with extra 'E's' and question marks. He is the biggest reason I generally don't write back anymore if I'm not interested. And these are full grown men in their 40s/50s. Dating sucks at every age, it seems."
Final Thoughts
My question to Redditors showed that it's not uncommon for women to receive hostile emails from men who are ignored or politely told: "not interested."
In the end, if a woman doesn't respond to your message or tells you she's not interested don't take it personally. You should never attack a woman yet many men do. Do you think attacking her is going to change her mind?
And definitely, don't plead with her to reconsider talking to you.
Don't message back "What about me, in particular, don't you like?" It shows a complete lack of confidence.
Now, I do recommend sending a second message if you don't hear back from her but wait a few days. Your email may have gotten lost in her inbox among the other guys sending her messages.
I've met plenty of women by sending a second message so I encourage you to do it. But if you do this, never reference your first message. Act as if you never sent it. Come up with a completely new approach commenting on something else on her profile.
Ask an open-ended question. If you see she likes to cook, comment on that. If she's active and enjoys the outdoors, focus on that in your email. It's more engaging than simply writing "you there?" or "Hi."
If those are the type of messages you send to women, you honestly don't deserve a response.


I'm curious, what do you do when women don't respond to your messages? Do you take it personally or move on? Share your experiences below.