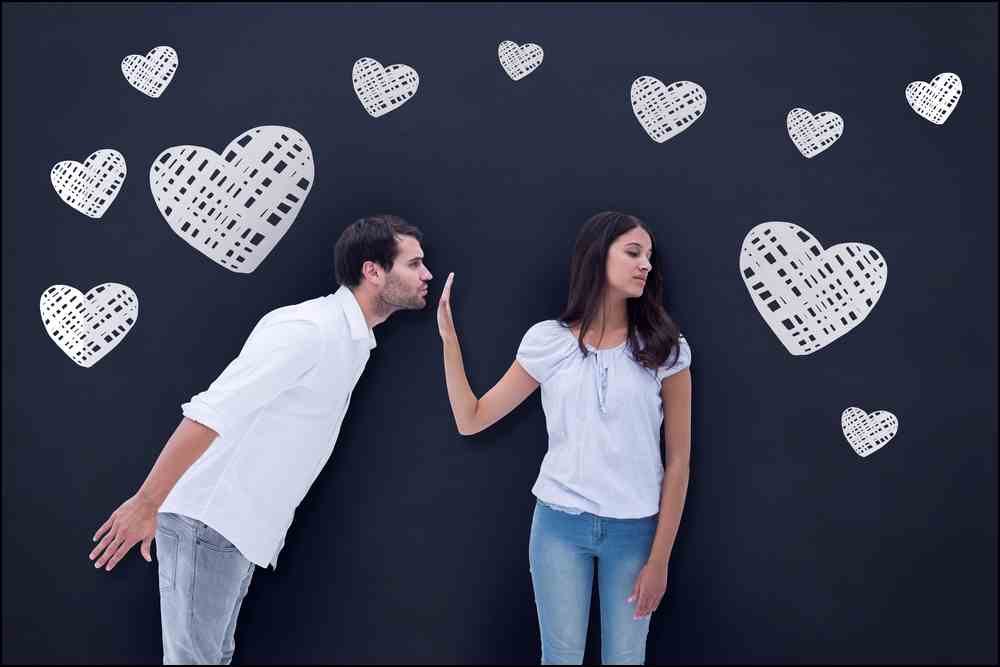 What Should You Do When Women Play Hard To Get?
It's simple; when women play hard to get it's time to move on.  If someone isn't intrigued by you, find someone who can keep your attention and whose attention is focused on you.  End of discussion.
Trust me, you don't want to be in a relationship with someone whose prevalent emotion is indifference.   You're on a dating site to meet women and find a relationship; not to engage in long-winded email conversations or trade countless emails so don't chase after someone who isn't interested in you.
When a woman is into you, you'll know it.  She'll respond back in a reasonable amount of time, start conversations, and be open to meeting instead of trading texts and emails.
Know When Women Play Hard To Get
A woman isn't playing hard to get if she doesn't respond to any of your messages, or worse, ghosts you.  That means she's not interested.  You should know the difference.
Also, some women are just busy and don't live on their dating app so don't be over eager and send a barrage of messages if she doesn't respond back immediately.  It's just creepy to send a string of 5 or 6 emails within a 24-hour window.  And believe me, a lot of guys are guilty of flooding a woman's inbox with messages in a short amount of time.  Don't do it.
You can identify when women play hard to get when after a few emails they suddenly "becomes busy" when asked out or never seem to commit to meeting you.  For example, you've asked her out a few times and she declines your date and never offers an alternative day to meet up.  If a woman wants to meet you she'll always offer an alternative date; "I'm not free Friday night but I'm free Saturday."
If she's busy all the time and doesn't agree to meet you or offer another day to meet, she's not playing hard to get; she's simply not interested.  At this point, move one.
When you ask a woman out, be sure you do it the right way. I covered this in this blog post How To Ask A Woman Out On A Dating Site In 3 Simple Steps.
Communication Is Critical To Success
What if you can't tell if she's playing hard to get or is really just busy?  How do you know the difference?  It boils down to communication.
Take the initiative to start a conversation about what you both want and don't assume anything.  Don't try and be a mind reader.  Women will tell you exactly what they're looking for if you ask them.
Everyone is different and behaves in their own way. What you think is "playing hard to get" could actually be indifference. Not all women are touchy-feely and super emotive. It can be confusing sometimes.  Heck, some women might not even be aware they're doing it.
I've encountered women who had a lot of enthusiasm while some were closed off; taking more time to fully warm-up.   I've met women who were direct and upfront and wanted to meet sooner than later because they didn't want to waste their time.  No matter who I talked to, I always asked them what they were looking for in the first few messages so I could ensure we were on the same page.
I encourage you to do the same.  It's critical to know what she's looking for so you don't waste your time on someone who isn't interested in you.
Treat Others As You'd Like To Be Treated
When you like someone don't act as if you're not interested; waiting days to email or text back. And definitely, don't delay meeting up if a woman's interested in you.
If you're interested in someone and act as if you're "too busy" or "too in demand" it's probably going to hurt you.  Women find nothing sexier than a man who is into her. If you're "too busy" to meet up with her, trust me, there are a dozen other guys who will ask her out and you'll be left out in the cold.
In the end, treat a woman as if you'd like to be treated. It's that simple.
Final Thoughts
Don't chase women who keep you at a distance. If there's no reciprocation on her part, it's not worth continuing.  Make sure you know where you stand so you don't waste time chasing someone who has no intention of meeting you.
It doesn't get much simpler than that.
Do women play hard to get with you? Have you been guilty of it? Leave your comments below.