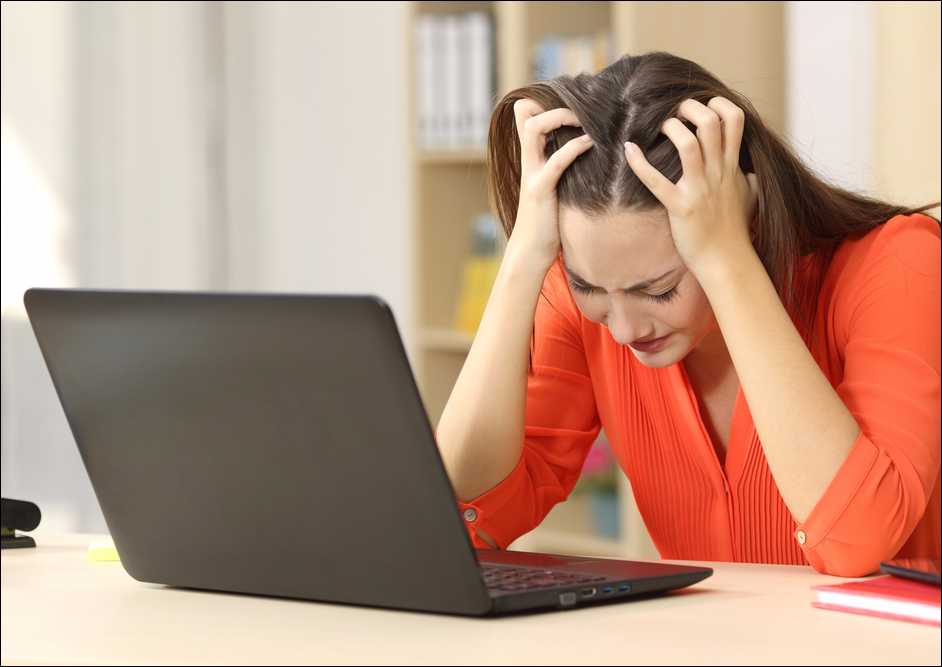 The Worst Online Dating Messages Men Send to Women
What are the worst online dating messages to women? 5 message blunders the majority of men make in their messages which ruin any hope of getting a response back.
Women receive a lot of crappy messages from men on dating sites. The most attractive women receive the most messages and unfortunately for them, the messages are awful.  Here's a screenshot of the inbox on POF of a very attractive female friend of mine, Lisa.

Lisa wanted to share with me why she is frustrated with online dating. Just look at the number of messages she received over 2 days; 263 messages.  She showed me all the messages in her inbox and I'm here to tell you that every single message was bad.
I' going to share with you 5 of the worst online dating messages she received so you can avoid making the pitfalls the guys below do.
1. One or Two Word Messages
One of the worst online dating messages you can send a woman is a one or two-word message saying "hi" or something similar.  This was the most common type of message sent to Lisa as you can see below.
One word messages show a complete lack of effort and you might as well write "Hi, I have absolutely nothing to say".  Here's a fact, OkCupid found a message to a woman with the word "hey" has an 84% chance of being ignored.





2. Physical Compliments
The second most common message type sent to Lisa were physical compliments.
Sending the message "You are gorgeous", comes across as a line because so many men send the same type of message.
Zoosk found when men used the following words in their messages to women, they had a negative impact on response rates:
Sexy – 13% fewer responses
Beautiful – 20% fewer responses
Cute – 24% fewer responses
Gorgeous – 22% fewer responses
You'll set yourself apart from men by complimenting a woman about something in the free text section of her dating profile, not her photos.  Never compliment a woman's looks.





3. Lack of Confidence
Another of the worst online dating messages are messages that show zero confidence and seek her approval.  Eliminate the words "if", "would", "maybe" from your messages. Remember, show confidence. Assume she is interested.
Avoid questions that can be answered with a "no" answer.





4. Asking Her Out
I'm all for finding out where you stand, sooner than later, but asking a woman out on a date in your first message is a terrible idea. Don't do it.
Do I really have to explain why?
In fact, Zoosk found the following when asking a woman out in a first message:
Messages that used the word "date" resulted in 14% fewer responses from women.
Messages that used the word "go out" resulted in 56% fewer responses from women.





5. Showing Desperation
The most cringe-worthy of the worst online dating messages men send to women are the ones where men show desperation.  Begging or pleading with a woman to respond to you is not attractive.
Your actions show the type of man you are. Blasting women with several messages in a small window of time just shows you are desperate.
Not all women are on dating sites 24/7. If a woman doesn't respond to your first message, a friendly follow-up a few days later will do but leave it at that.
There's no need to email her at 7 PM Tuesday night then again at 8 AM Wednesday if you don't hear from her overnight.
I always recommend sending the second message a few days later, but not the next day. You look needy and desperate if you send the second message too soon.  If you send two messages and don't hear back from her, she's not interested. Move on. Focus on someone else.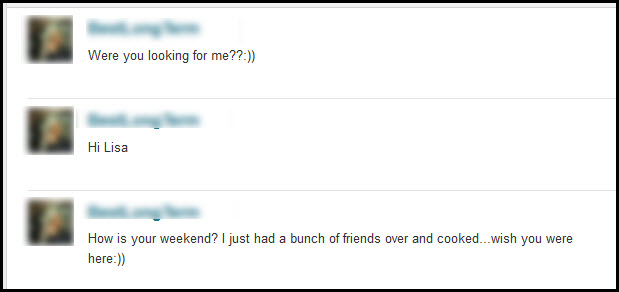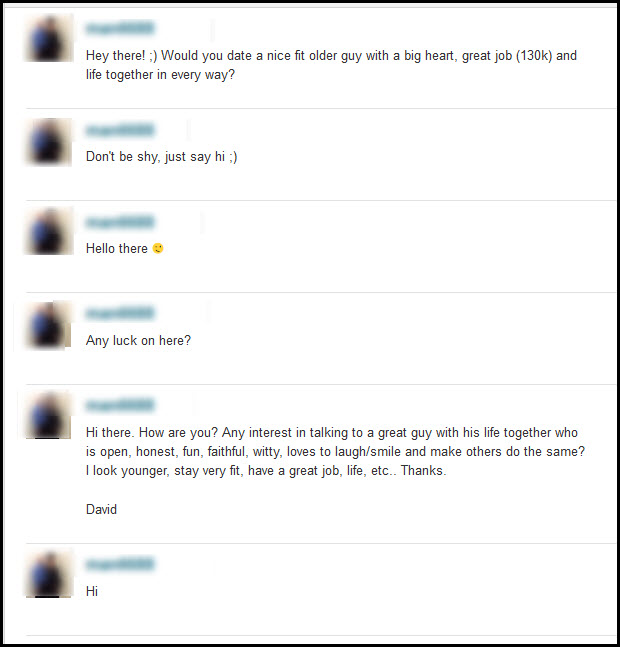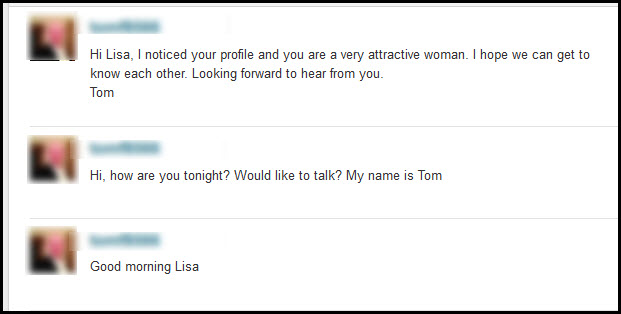 Final Thoughts
What are the worst online dating messages you can send a woman?  These type of messages:
One or Two Word Messages
Physical Compliments
Lack of Confidence
Asking Her Out
Showing Desperation
If you want to meet more women you have to use a better approach than the ones above.  Ask her open-ended questions about something in her profile. It can be anything.
Of the 263 messages sent to my friend Lisa, there was not a single email that asked her about her interests, passions, or hobbies.  They were all complimentary or boring elevator talk like this:

Elevator talk is something you would say to someone you are sharing an elevator with. Meaningless, boring, weak conversations such as "How was your weekend?" or "Enjoying the weather?" Yes, men send these messages to women.
Separate yourself from the herd. Focus on something other than her pictures. Mention something in her free text section.  You're likely to get more responses from women if you actually comment on something in her profile instead of sending a message like one of the 5 above.
If you want to see a better approach for your first message, check out my blog post What To Say In A First Message To Women On Dating Sites: 4 Steps To The Perfect Opening Message.
Leave your comments below. I would love to hear what you have to say about Top 5 Worst Online Dating Messages Men Send to Women.