Online Dating Profile Examples for Men
1. Check Your Grammar
One of the biggest turnoffs for women in online dating are men who have misspelled words in their dating profile. 69 percent of women in one study, looked for good grammar in the dating profiles of men. Yes, it matters. There are a ton of free tools that you can use to check your spelling and grammar. Take the time to check your dating profile before activating it. You need pictures on your online dating profile.
FACT: Women do not respond to messages without photos.

On Match.com, dating profiles with photos get UP to 10 times more responses than profiles without photos.

eHarmony says that individuals who have photos on their dating profile are nine times more likely to get messages in their inbox than those who don't have photos.


2. Make An Effort
How much do you write about yourself in your profile? One study found men use, on average, 106 words in their online dating profile. 106 words are not enough.

What do 106 words look like? Here's an example of an actual profile clocking in at 102 words, bad spelling and all:

"Hello hi I'm Lukasz I really suck at writing about myself, but lets do this. My friends say that I'm a laid back down to earth guy. I enjoy going out hanging with friends and family as much as having a lazy day and chilling at home with a good movie or some video games. As for music I'm open to all kinds except for most rap. I've worked hard to be where I am right now and continue to work hard to better my life and myself. I'm looking for my partner in crime. I don't have time to play games."

100 words are not enough. I suggest 200 – 250 words.

Share your passions and interests but at the same time, don't overdo it. Find that balance necessary to generate interest and pique her curiosity.

Here are some examples of what NOT to do: Question marks? Seriously, this would be a great dating profile if you were the Riddler but for everyone else, it's a bad dating profile.







Nothing screams laziness like this:




On the flip side, don't share too much information. The dating profile example below is NOT readable. The format is awful. One big block of 524 words that just hurts looking at even when blurred out.

No woman is going to read this. It's not appealing to the eyes.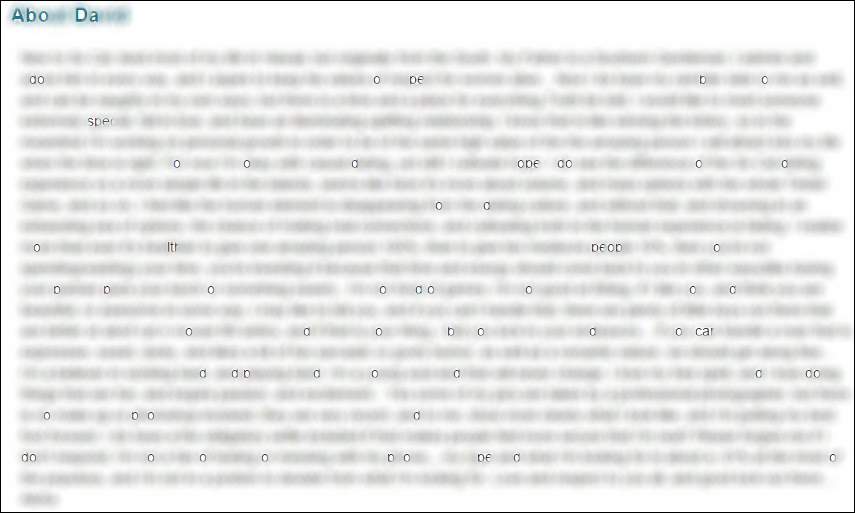 The dating profile example below has WAY too much information. 852 Words. I couldn't fit the whole profile in the screenshot. There were another 300 words on this profile. This is an example of OVERKILL.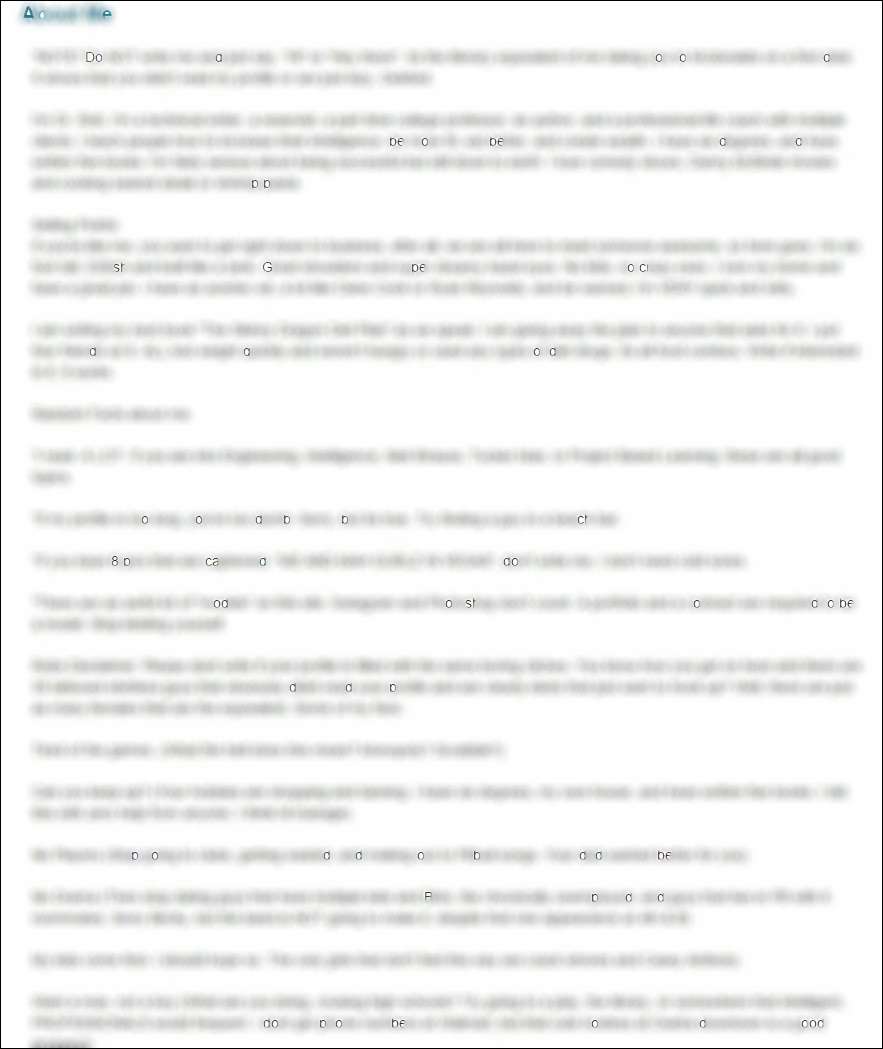 3. Avoid Negativity
Your dating profile should always be positive. Plentyoffish found that users with positive identifiers in their profile received 23% more incoming messages.

Men still choose to write negative dating profiles. Take this guy for example:





Can you read this and find anything positive about it? It's negative. He points out how un-kid friendly he is. And he has no time to waste. I guarantee you that he does poorly. Women will pass on this guy because of his negative profile. Here are a few sentences I found in minutes on Match.com: "...however if you're a vegetarian or have any objections to zoo's, marine life parks and aquariums we probably aren't a match..."

"...If you are a smoker or drug user, I am not interested..."

"In short, I'm not here to waste your time, so please don't waste mine."

"I am done playing games, looking for genuine people and quality not quantity."

"I'm not here for drama."

"No games"

"No players"

"No bs"

These are awful approaches. Negativity only makes you look jaded.

Don't start listing things that you aren't interested in.

Focus on the positive traits you seek in a woman and you will do much better.



4. Show Some Confidence
The last thing you want to appear is wishy-washy or weak on your dating profile.

According to Match.com, 84% of women will routinely watch you for your confidence level, and it starts with your dating profile.

Avoid using words like "if" or "maybe" on your profile. Too many guys write sentences like these on their profiles"

"..message me if you'd like to meet a nice guy and..."

"..maybe we can meet for coffee and see ..."

Instead, simply close out your profile ASSUMING she's going to write you; "I look forward to your message."

See the difference?

Other tips include avoiding sentences like the ones below.

"I'm not good at writing about myself.."

No need to point out you aren't good at something. This is your chance to shine. Embrace it.

"My friends say I'm hilarious..."

Speak for yourself! Don't reference what others say about you.

You may not realize it but a word here or there can have a profound effect on whether a woman chooses to contact you or not. Always show confidence.!


5. Check Your Self
You need to look at your dating profile through the eyes of a woman. Everything has importance on your dating profile.

Don't be the creepy guy who will date anyone. This guy is 46 years old and has he will date women as young as 18. I am assuming he maybe forgot to fill this out. But women will notice this and think "creep".





If you are 21 years old and don't know if you want kids, that's fine. You have time to figure it out. But if you are 40 and don't know, it's a HUGE red flag. Take this guy. He's 36 years old.





Notice he doesn't know if he wants kids (red flag) and is looking for a woman who "definitely wants kids someday" but "isn't sure" or "probably not" wait "no" she doesn't want kids, or maybe "No" she doesn't want kids but is "ok if her partner has kids". So, basically, this guy will date anyone.

This is as wishy-washy as it gets. Just what a woman want's, a 37-year-old man who doesn't know if he wants kids but will date every option available on Match.com.

Women who want kids will NOT waste their time on a guy who doesn't know if he wants kids or not. Also, if you appear wishy-washy women will run for the hills.

You are a man and you need to know what you are doing on a dating site.

Never put "prefer not to say" on your dating profile. It looks like you are hiding something. It's even an option for having kids: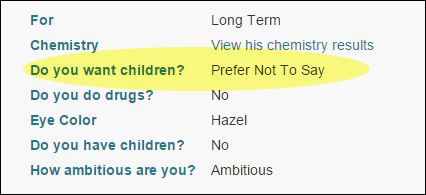 What man would put "prefer not to say" about having children? It's odd. It's a yes or no answer. Even "undecided" is better than "prefer not to say" in regards to this question.


Here is a video from POF as a helpful tool for dating profile examples for men: