10 Online Dating Profile Headline Tips for Men
Your dating profile is important....as in IMPORTANT YOU DON'T SCREW IT UP.





First impressions are everything!

Your dating profile headline is one of the first things women see about you.

You need to make your headline stand out and avoid the mistakes most men do with theirs.

Look at this from a woman's perspective, she scrolls through all these profiles and has to make a choice. How would you make your headline standout to appeal to her among all these: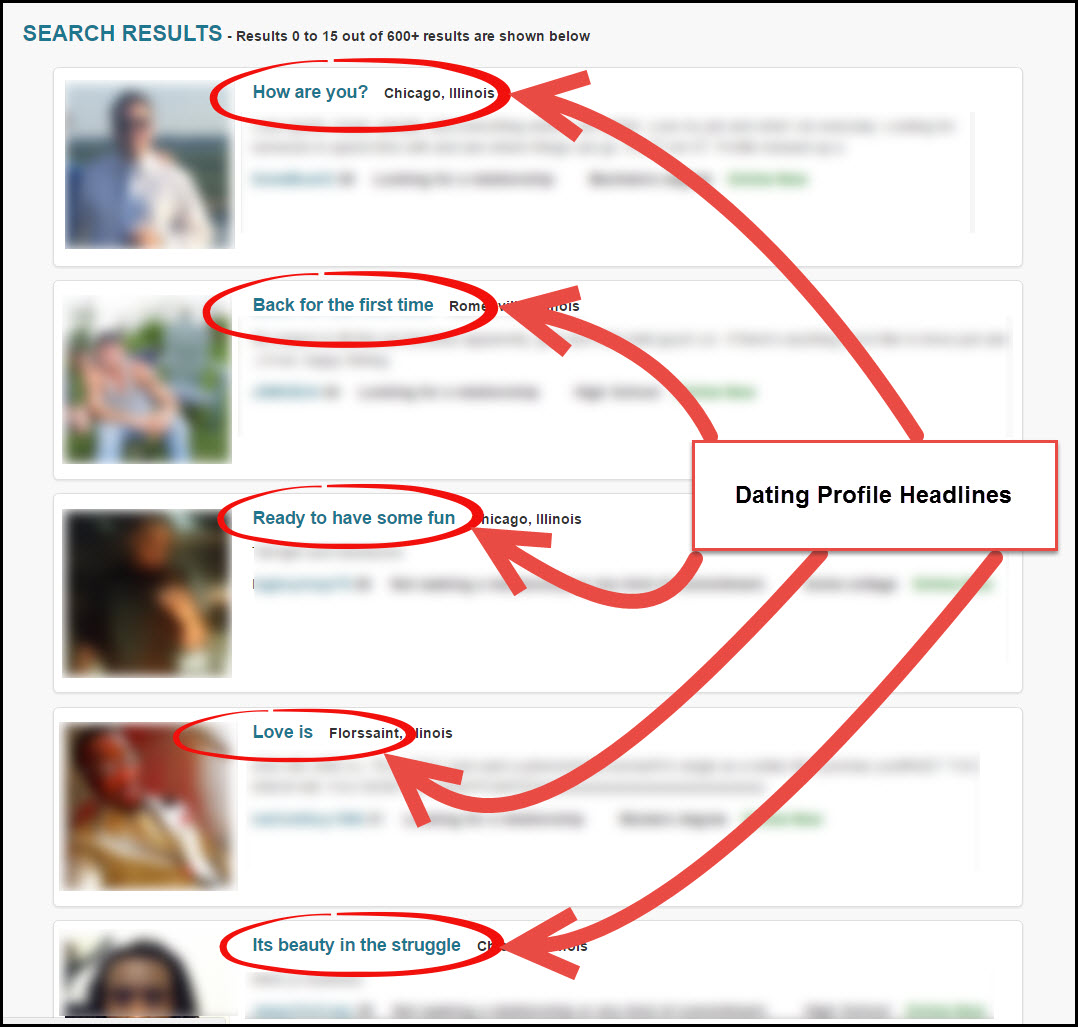 A good headline will cause a woman to stop and focus more on your photo that is right next to it thereby making you MORE attractive.

This is why it's important to have an eye catching dating profile headline.

If you have a bad headline, women will keep scrolling until they see one that catches their eye.

Here are 10 online dating profile headline tips you should read through before creating yours.

If you have a headline already read through these tips so that you can check yours against the following examples.



1. Avoid Desperation
There is nothing attractive about desperation yet many men choose to beg women to choose them on their dating profile headline.



Begging a woman to choose you is not appealing. Never plead with a woman to "give you a chance."







If you're a nice guy, a good guy, or a catch, you should show it in your lifestyle description in your profile text section. You shouldn't have to write how much of a great guy you are on your profile headline.

Remember, actions speak louder than words!




2. Never Show A Lack Of Confidence
It's no secret that women LOVE confidence. Your dating profile headline should display confidence and not a LACK of it like these examples.





Come on. Really? Never tell a woman how you finish last.





Don't tell a woman you don't know what to say. You are on a dating site for a reason. OWN IT!

Don't write something clueless like "I don't know why I'm here" or "Just checking this out."

Women are on dating sites for a reason and one reason only, to meet a man. If you don't know why you're on your dating site, you show a complete lack of confidence.

You are a man and you are here for a reason. Step up to it on your headline.




3. Cliches Are Worthless
Cliches are a dime a dozen. Keep them off your headline.






There's no need to share how you "live life to the fullest", "live for today" or "are a true gentleman who opens doors" in your headline.

You need to show these things on your profile instead of your headline.




4. Bad Grammar = Bad Results!
Match.com found that 70% of women judge men by their grammar so it's critical to not mispell words on your headline.

This includes phone text lingo. Keep it off your profile.





I can't emphasize this enough, spell check EVERYTHING on your dating profile.




5. Lack Of Originality
No need to tell women you are "fishing" if you are on Plentyoffish.

Seriously, it's not clever at all.

In fact, it's shows you aren't clever because so many men use the same stupid phrases referencing fishing.





If you are on POF and use a "fishing" reference on your dating profile, you deserve to be ignored.

Get a little creative with your dating profile headine will separate yourself from all the other men who choose to state the obvious like "Just here fishing!"




6. Saying Nothing At All
A complete lack of effort on your dating profile headline shows how serious you are about finding someone.






If you can't take the time to write something, what do you think it says to the women about how much effort you'll put into a relationship.

Put a little effort into your dating profile headline instead of taking the easy way out and writing nothing.




7. Negativity
Keep your dating profile 100% positive. Always

Plentyoffish found that users with positive identifiers in their profile received 23% more incoming messages so its important to stay away from anything negative.

Never share what you "aren't" looking for or "don't" want like these guys:






If you need to tell women you aren't looking for drama, odds are YOU bring drama yourself.

Stop telling women what you aren't looking for. It makes you look insecure.

Confident men KNOW what they want and go after it.




8. Sexual Innuendos
Stay way from anything sexual on your headline.

Do I have to tell you why?





Seriously, keep anything sexual off your profile headline.




9. Telling Women What They Want To Hear
Don't write how you are looking for "the one" or your "soulmate" or your "forever" on your dating profile headline:






Keep that sappy stuff off your headline. You aren't fooling anyone and just look like a fool.

Keep the cheesy lines off your headline because they fail to impress women.




10. Good Dating Profile Headline
Creating a good dating profile headline is easy if you keep it positive and have fun with it like this:

Keep it postive and keep it fun and you'll grab women's attention.