10 Tips For Men To Create The Best Online Dating Messages To Women
Do you want to know why it's so tough to get a response to your messages from women on dating sites?

Here's what an attractive woman's inbox looks like. This is an actual inbox of an attractive woman after 16 hours after being activated. Yes, 231 messages in 16 hours!





These are the type of messages men send her. All of which are awful first messages.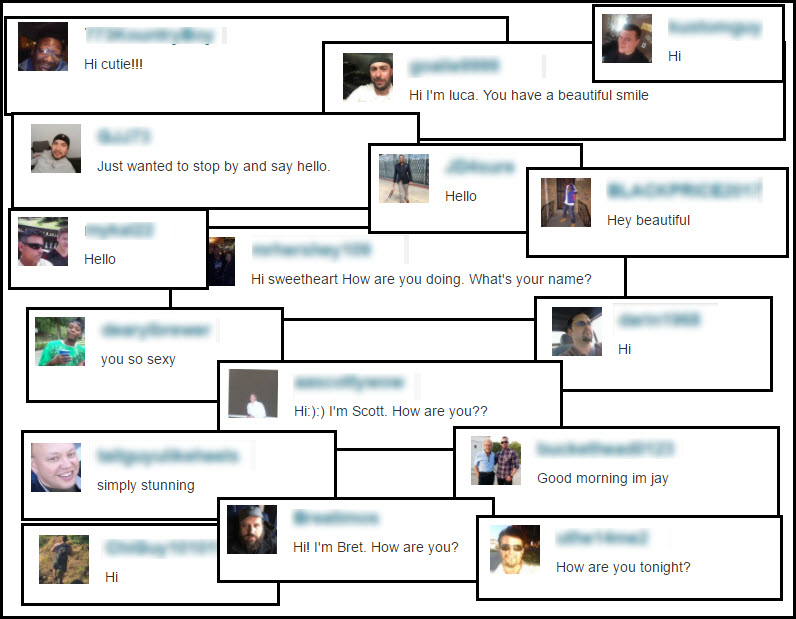 The Odds Are Against You
First the bad news; studies vary but the average guy has a 10% chance that a woman will respond to his online dating messages.

In fact, the dating site AYI.com found a man sending his first message to a woman has a 4% chance of receiving a response to that message.

4% is abysmal but judging by the messages above, it's no wonder men have such a low response rate to messages.

In one study, 19,130 messages messages on one dating site were analyzed. 72% of emails sent by men to women went unreturned.

Most men don't know what they are doing when they email women and pay for it with unreturned emails.

Here are a couple of examples:






These messages stink. And this is all too common. Men simply send awful messages to women.

But there's hope.

I'm going to share with you 10 tips to help you create the best messages to women on dating sites. Follow these tips and you will do far better than the average guy.


1. Email Hot Women
One study found that said men hesitate to email the hottest women on dating sites because of their fear of rejection.

Don't worry about it. What's the worst a hot girl will do, say "no"?

Who cares! There are a ton of hot women on dating sites. It's a numbers game and the numbers are in your favor.

Another study I read said the least physically attractive men can expect to hear back from the hottest women 14% of the time.

I know, 14% is not ideal but it's better than 0.

But here's the thing; most men send horrible emails to women. You are not going to fall into that group of guys.

Keep reading.



2. Mention Something on Her Dating Profile
The most crtical first message tip is to show her you read her dating profile by mentioning something you readin your first message.

This means something you read in her free text section; not her photos.

It's easy to comment on her photos. Most men do this.

But when you send her a message regarding something she mentions in her profile, you show that you took the time to get to know something about her beyond her pictures.

"Wow, you went skydiving. Where did you go and how hard was it to jump out of that plane? I went bungee jumping last summer and skydiving is next on my list." for example.

Also, if she shares her name in her dating profile, use it at the beginning of your first message to her.

"Hi Lisa…" Simple.


3. Never Compliment a Woman on Her Looks
Don't ever tell a woman she's pretty in your first message.

EVER!

Attractive woman receive tons of emails each day. The majority of messages all compliment her on her looks like this:






You may think complimenting her in your first message is a good idea, and you may even be sincere, but every other guy is doing the same thing.

Your compliment will come across as a line and you will quickly be dismissed.

If you want to compliment her, focus on her career or lifestyle choices.

Remember, DON'T COMPLIMENT HER ON HER LOOKS in your fist message.


4. Never Ask a Woman Out In Your First Message
Don't mention coffee, bars, movies, hikes, anything! Absolutely no mentions of a date in your first message.

Too many guys ask a woman out in their first message and shoot themselves in the foot in the process.





Your first message should establish you are a confident, humorous, quality man worth getting to know.

Patience is key.


5. Show Some Confidence
Avoid using words like "if", "would", "maybe", "when", or any other passive word in your message to a woman.

These type of words show a lack of assertiveness and confidence. Here's an example:





This poor guy uses the word "if" which means he's seeking her approval. The word "if" is a poor choice. Note how he also commented on her looks which comes across as a line.

This is a bad approach. An even worse approach is to point out your perceived strengths or other qualities to women in your message like this guy: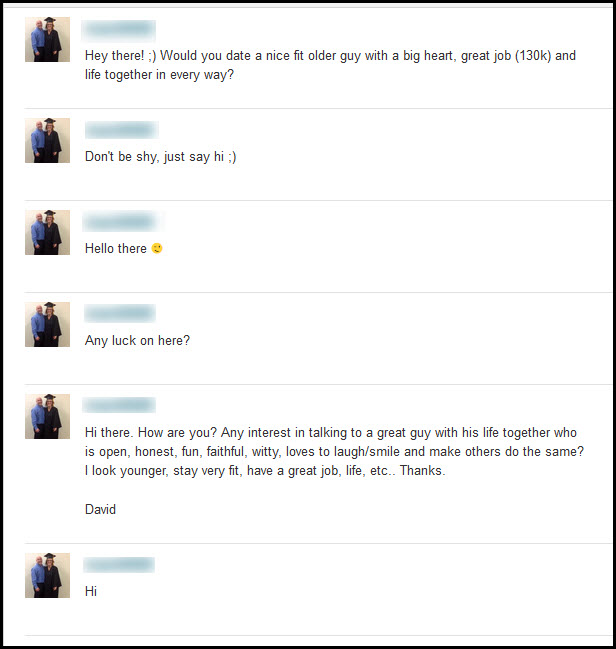 Look at the number of messages this guy sends the woman. He uses the words "would" and "any" asking for approval. He feels the need to share his income which is a big no-no. "Hi", "Hello there", and "Any luck on here" show a complete lack of anything original to say.

These guys might as well of written "I have no confidence. Please delete my email immediately."

Women love men with confidence so show some confidence in your first email to her.

A confident man doesn't have to tell a woman how much money he makes, or point out of much of a catch he is, or seeks a woman's approval.

Don't ask a woman if she's interested, ASSUME IT.

And if she isn't, it's her loss. Move on.


6. Check Your Grammar
This goes without saying.

Don't come across as illiterate in your first email to a woman. Women look at your grammar. Yes, it matters.

69% of women in one Match.com survey judged men most on their grammar so take the time to spell check your messages or download a grammar tool that can autocorrect your spelling.





And no phone/text slang in your messages. Avoid words like "luv", "U", "U r".


7. You Don't Have Her at Hello
It may have worked for Tom Cruise in Jerry Maguire but it doesn't work in online dating.

Never start your email with "Hi", "Hello", or "What's up".

A study by OkCupid found these type of opening messages get the worst response rates from women.

In fact, they are used so often that "holla" and "yo" were more effective in the same study.

Oh, don't use "holla" or "yo" in your first message to women on dating sites.


8. Instead, Ask A Question
I found a perfect opening line; "Can I ask you a question?". I would use this often in my messages to women.

It's not threatening. It's simple. It's effective.

Most men opt to say "hi" or "hello" so asking a question will help your messages stand out

It easy; find something on her profile and ask her about it.


9. Keep Your Email Short and Simple
No long emails. Don't be the guy that writes long winded emails.

Keep it easy and light. Nothing serious.

A few sentences is all you need. Comment on something on her profile and ask a question or two. That's more than enough.


10. End With A "Call To Action"
In the marketing world, a "call to action" is used to provoke an immediate response.

It's very effective in online dating messages.

An example you could use in your email to a woman is this:

"I'll be eagerly awaiting your reply"



These are some basic tips you MUST follow when you send a message to women on a dating site.

For more ninja tips sign up for my newsletter to receive amazing tactics, strategies, and advice to meet women online.