What Are Online Dating Profile Tips For Men?
10 dating profile tips to help men increase their appeal to women. You can boost your results with simple changes to your dating profile.
Your profile can't just be "OK"; it needs to be great and standout in order for women to take notice.

The unfortunate reality of online dating is the majority of men have dating profiles that push women away instead of attracting them.

Follow the dating profile tips below and you'll put up an eye-catching dating profile which will not only make you more appealing to women but will increase your response rates and help you get more dates.
1. Make an Effort
If your profile looks like this, you deserve an empty inbox.





It's simple math really; Half Assed Effort = Half Assed Results

Your first dating profile tip is to take the time necessary to write about yourself.

Your family and friends may say you're a catch, but the woman looking at your profile has no idea if you are or not, so you need to SHOW HER you're worth getting to know.

It's easy. Just grab a piece of paper or open up notepad and list things you enjoy doing. It's not rocket science. Just think about your interests and passions and start listing them.

These can include:


Painting
Rock Climbing
Volunteering
Hiking
Singing
Cooking
Horseback Riding
Traveling
Listening to live music


You get the idea....Choose 3 or 4 and expand on why you enjoy them. Don't just list them. Think carefully and share why you enjoy them.

You'll stand out when doing so because most men just list what they enjoy. Women are more emotional so when you share how things make you feel, you will connect with them more than the guy who just lists things.



2. Spellcheck Everything
Before sharing your profile check it for grammar errors. It may be the most important dating profile tip you should be aware of.

Why? Well here are a few facts:


According to Match.com, 96% of women think grammar is essential and bad grammar is a turn-off.
Zoosk polled 9,000 singles and found 72% were turned off by bad grammar and 48% consider poor grammar to be a deal breaker.
Zoosk also found that 65% of women polled would let grammar get in the way of pursuing a date.

The reason is simple; bad grammar makes you look uneducated or unintelligent. In fact, 27% of people in on study will think you're "lazy" or "just don't care" if your messages have spelling errors.

The moral of the story here is if you're serious about meeting women online, you should know the difference between "your" and "you're."


3. Use the "Right" Photos
First things first, ditch the selfies. Zoosk found guys who use selfies receive nearly 10% fewer messages from women. Selfies make you appear as if you have no friends or are narcissistic which are red flags to women.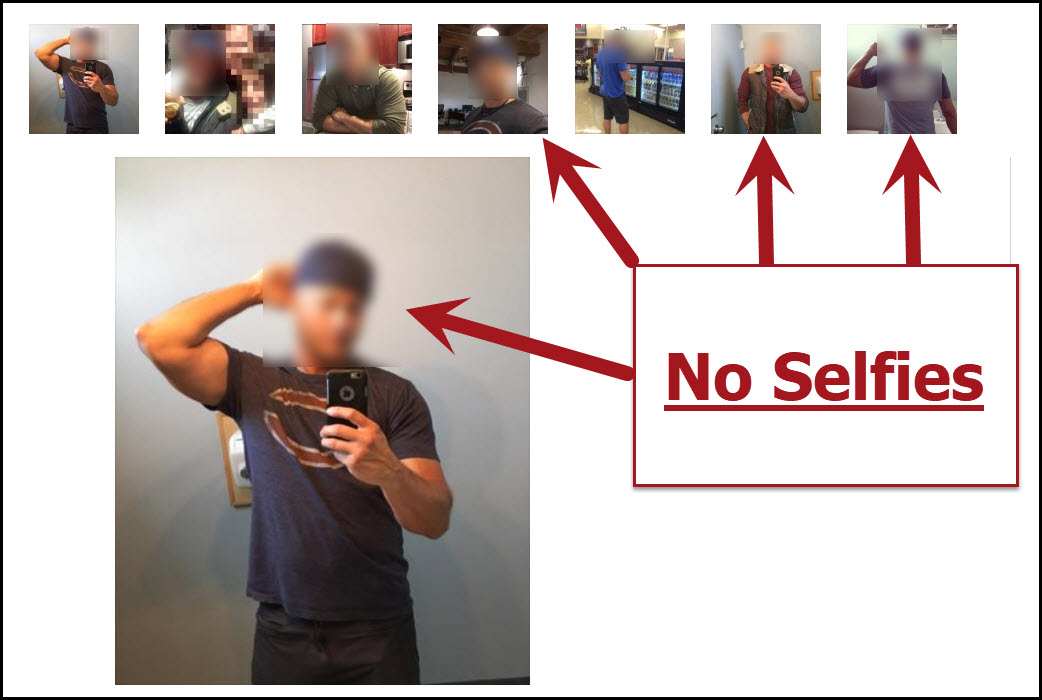 You need several photos on your dating profile. Not just 2 or 3 photos mind you, you need at least 6 photos.

A good photo portfolio will help you stand out because you'll be sharing your passions and interests which help women get an idea of who you are.

If you have a good camera, great. If not, your phone will work. Grab a friend and take a few photos of you doing things you enjoy.

Don't use douchey photos where you are posing for the camera. Just use photos of you doing things you enjoy.

You like to hike? Great add a photo of yourself on the trails. You paint in your spare time, cool, add a photo of yourself while painting. You like to cook? OK, add a photo of yourself making a dish. Get it?

And don't come up with some lame excuse like "I have nobody to take my photos". Nonsense. Just ask someone to take a quick photo of you.

Trust me, you aren't doing yourself any favors using selfies. They are not as effective as photos taken by someone else.

And remember to smile!


4. Introduce Yourself
A dating profile tip you would think is common sense is actually hardly followed, start your profile by sharing your name just like this:




Most guys just jump into talking about themselves like the profile below.




WHOA there. Don't just start describing yourself without a proper introduction.

It's best to start off with your name because it creates a connection with the woman reading your profile.

When women have a name to go along with your photos, it makes you more trustworthy.


5. Structure Your Profile So It's Easy To Read
Your profile should be easy to read for women. When you write about yourself, structure your profile to appeal to people who read profiles completely as well as people who skim through them.

Some women will read your profile word by word while others will skim through it and if something catches their eye, they will go back and re-read it.

The problem is that a lot of guys put up profiles that are unreadable. This is an example of a badly formatted dating profile:




The profile above hurts my eyes just looking at it. I copied it and adjusted the structure of it to show you how it should have been created: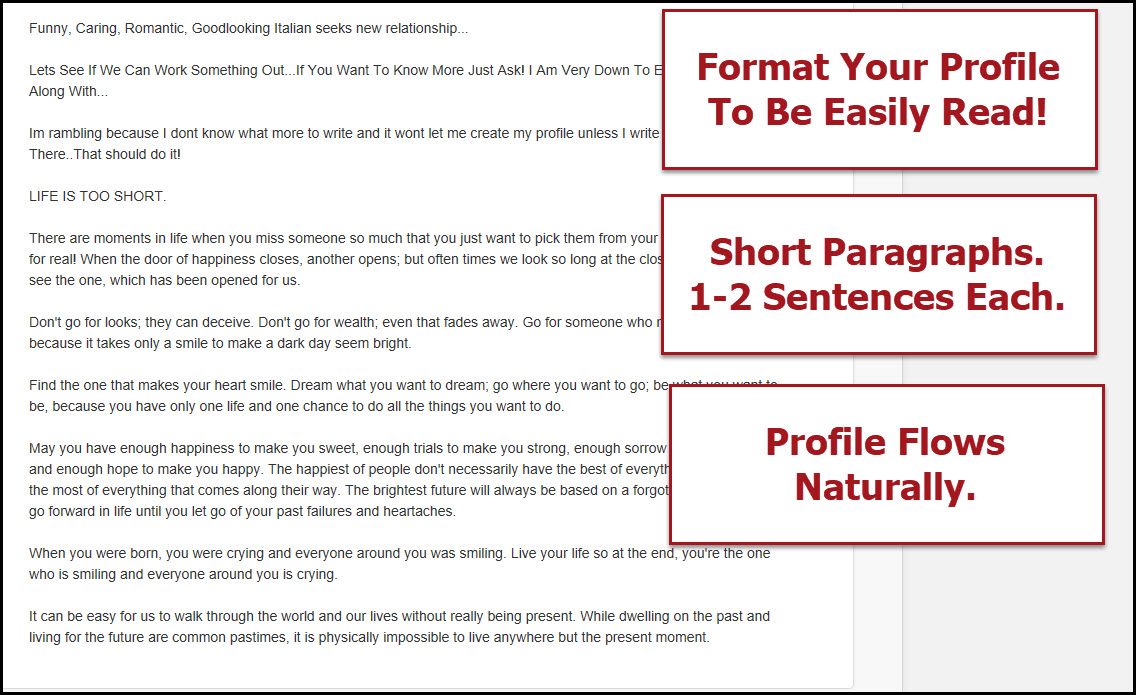 Do you see how it's easier to read? The shorter sentences make it more appealing to read and has a much better flow.
6. Fill Your Profile Completely
Women go through profiles with a fine-toothed comb.

Don't leave unanswered questions in the section where you choose from a list of options.

Answer everything and never leave questions blank and avoid the dreaded "I'll tell you later" or "I'd rather not say options." The terms make it look like you're hiding something.





Go through each question and answer it honestly.
7. Be Positive
Nobody wants to date someone who is negative. What woman is going to want a guy who writes this on his dating profile:






Your profile should pique a woman's interest. Make her laugh. Show her you're a well-rounded man and not some bitter, angry, man-child who doesn't know what he wants.

Here's a simple dating profile tip; keep your dating profile completely positive. Plentyoffish found that men who had positive identifiers in their dating profile received 23% more incoming messages.

Too often, men use negative statements like these:


Don't message me if....
I'm not here for...
Don't waste my time...
I'm not looking for...


Ditch the negativity and focus on positivity.

If you're in a bad mood when creating your profile, get off the computer and do something else. Take your frustration out at the gym.

Only create your profile when in a positive mindset.
8. Give Your Profile A Tune-Up
You should revise your profile every month; swap out photos and change your written section. If your dating site uses headlines tweak those from time to time as well.

A month is an eternity in online dating. I'm not saying you should completely revamp your dating profile. Just make a few changes.

Tweaking your profile will keep your profile fresh and current. New photos may attract women who overlooked you in the past. For example, if you went on a hike recently, add a photo of yourself doing it.

If you took a recent trip write about it in your profile and add a photo. Make sense?

Giving your profile a tune-up keeps it fresh and will improve your results over time.
9. Don't Just Say It; Show It!
Don't be the guy who says he likes to travel, lives life to the fullest, and loves to have fun. This type of sentence shares nothing about who you are.

You need to give examples. Go into a little detail.

Are you spontaneous? Great. Give an example to prove it.

So you love to cook! Perfect. Share why you enjoy cooking and talk about your favorite dish.

Let's take this guy.




He writes "Boating, sports, traveling, drinks on patios" on his profile. I can guarantee he gets ZERO interest from women. As I mentioned above, Half Assed Effort = Half Assed Results.

Instead of just writing "traveling", he could write this:

"Traveling is my passion. Visiting exotic locations allows me to connect with other cultures and people. You haven't lived until you've gone snorkeling in the Ko Phi Phi Islands in Thailand. Oh, the food is incredible too."

Do you see how much better showing how much you enjoy traveling is better than just writing the word "traveling"? You need to write about yourself like this in order to appeal to women.
10. Smile
You need to smile in your photos. Nothing fake. Flash those teeth.

According to Match.com, 71% of women judge a man by his teeth, so flash those choppers.

The key is a natural free-flowing smile. A smile signals kindness, friendliness, and means your approachable.

Photofeller recommends: "When smiling in pictures, be sure that that both sides of your mouth are turning upward to avoid accidentally signally "contempt," which comes across like a smirk."
Final Summary
Women judge you on everything on your dating profile. Creating a good dating profile is easier than you think.

Keep each dating profile tip in mind as you create your profile:


1. Make an Effort
2. Spellcheck Everything
3. Use the "Right" Photos
4. Introduce Yourself
5. Structure Your Profile So It's Easy To Read
6. Fill Your Profile Completely
7. Be Positive
8. Don't Just Say It; Show It!
9. Give Your Profile A Tune Up
10. Smile


Follow the dating profile tips above and you'll stand out because the majority of men put zero effort into their dating profile.